Multihog Delivers 18-Strong Fleet to Ville de Laval With the Help of Enterprise Ireland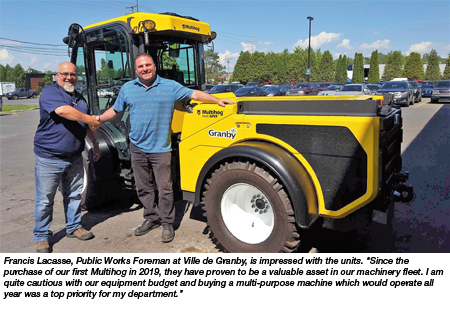 Multihog recently delivered a fleet of 18 compact multi-purpose tractors to the city of Laval in Québec, Canada. The maintenance vehicles will be used for sidewalk snow removal in the winter and boom mowing in the summer season.
The contract, worth $2.6 million, was brokered by Quebec's Multihog dealer, Machineries Forget. Another supporter of Multihog's growth and success in the Canadian market is Enterprise Ireland (EI), Ireland's trade and innovation agency, who partners with Irish enterprise companies to help them start, grow, and win export sales in global markets. Enterprise Ireland is pleased to work with Multihog to innovate and increase brand awareness across Canada.
"We are delighted to assist Multihog to provide top-quality multi-purpose machines all across the country to municipalities such as Granby and Laval in the province of Quebec. We are very proud to support them in this important work," said Ève Chartrand-Dandurand, senior vice president Industrial Technologies – EI Canada
The first municipality in the province to opt for Multihog's multi-purpose vehicles was Ville de Granby, a town located east of Montreal. Having seen the Multihog for the first time in 2018 at the APOM municipal trade show, they purchased their first Multihog, an MXC model, in 2019. Today they operate a total of 3 Multihog units in their winter maintenance fleet. The versatile tractors are fitted with a variety of attachments including snow plows, drop spreaders, and a snow blower to assist Granby with sidewalk snow removal. In the summer season, they are fitted with boom mowers for verge cutting.
Multihog's Sales Director, Tony Duff, praised Machineries Forget, saying "We were thrilled to supply such a large fleet of vehicles to Ville de Laval, and we sincerely thank them for their trust in us. Since 2019, Machineries Forget has hit the ground running in terms of promoting our products. We are lucky to have such a strong and willing partner, and I have no doubt that Multihog's presence in Québec will continue to grow with Mathieu and the team behind it."
"We were delighted to deliver this fleet of Multihogs to Laval earlier in the year, and we are a very proud representative for the brand in Québec. Our growing list of municipal and facilities maintenance customers is testament to the quality of Multihog's innovative range, and the scope of maintenance tasks it can cover. We look forward to a long and successful partnership with them, and are excited to promote their newest offering, the CV sweeper, in the region," said Mathieu Forget, sales director of Machineries Forget.
A relatively new partner, Machineries Forget is based in Mont-Tremblant and has been promoting the Irish maintenance vehicle in the region since 2019. Laval is the latest municipality in Québec to recognize the versatility of the Multihog and follows a number of deliveries in the region, to customers including Ville de Granby, Ville de Saint-Raymond, the Municipality of Saint-Hippolyte, Soudure Dufer and Signature sur le Saint-Laurent.
Source: Multihog Ltd.