The Future of Tree Removal
An army of arborists and tree care specialists have spread throughout California to clean up the debris and charred remains from this past years' record wildfires. The recovery effort has taken a big step forward with the delivery of a new fleet of SENNEBOGEN tree care handlers, signaling the arrival of mechanized equipment for tree removal.
At the forefront of this clean-up is Mowbray's Tree Service, which is based in San Bernardino and manages skilled crews throughout the southwestern U.S. state. Richard Mowbray, along with his father and grandfather before him, built their business providing vegetation and tree maintenance services for California's largest energy utilities.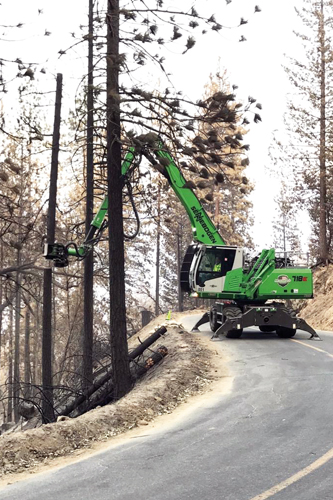 This year Mowbray's has deployed crews totaling 1,500 tree care workers plus up to 30 subcontractors with another 800 employees.
"Utility customers represent pretty much the entirety of our business, said Richard Mowbray, CEO and president of the company. "We're known for vegetation management, right-of-way maintenance and high-hazard tree removal."
In January of 2020, Mowbray's launched a new service division dubbed Mechanized Tree Removal. This newest division of Mowbray's is built around the unique capabilities of the SENNEBOGEN tree care handlers, primarily the 718 M model. Mowbray's is well accustomed to using specialized tree care equipment, including a fleet of aerial lifts, cranes, and grapple trucks. But with the 718, Richard Mowbray sees a new level of productivity and safety emerging in the industry.
Based on SENNEBOGEN's extensive line of log handling and material handling machines, the 718 is a 19 t unit equipped with a 13 m telescoping stick with a grapple saw attachment. Its powerful hydraulics are tuned for delicate tree trimming as well as heavy cutting. With its 1,700 kg lifting capacity, the 718 easily grasps, cuts, moves and stacks whole trees and large limbs in a single smooth movement.
In the Maxcab, the operator can hydraulically elevate to an eye-level of 5.5 m, and adjust the cab's tilting mechanism to improve visibility into work zones. With its clear line-of-site, powerful grip and agile saw head, the 718 is often able to extract trees adjacent to high-voltage lines without requiring the cables to be de-energized.
SENNEBOGEN also offers 2 larger machines in the tree care lineup. Like the 718, the new 728 is a rubber-tired model with a slightly heavier base and another 7 m of reach. The 738 is even larger with a total reach of 22.8 m and is designed for larger trees and more challenging terrain.
Along with their astonishing productivity, the 718 and 728 (coming soon) are easy to transport quickly from site to site. Both machines are within the size and weight limits allowed to be moved on state highways without special permits. The crew can simply drive the machine onto to a flatbed trailer, lash it down, and go.
Source: SENNEBOGEN LLC