Weber Offers Heavy-Duty Soil Compactors With Gasoline Engines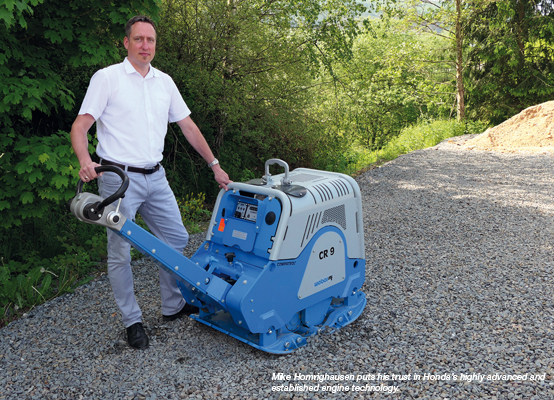 Hand-guided soil compactors have customarily been powered by combustion engines. Renowned engine manufacturers offer products that match this configuration and have recently managed to cut exhaust emissions dramatically. One example is Honda, who claim to have cut the emissions of their gasoline engines in half over the last 10 years. All the more reason for Weber MT to complement their extensive range of diesel-powered vibratory plates with a gasoline option.
To keep their weight at a minimum, forward-traveling vibratory plates have long been equipped with gasoline engines. However, gasoline engines also offer a number of benefits when used in hand-guided soil compactors of greater size and weight.
"Compared to diesel machines, they are substantially cheaper to buy and do not require you to have a discussion about harmful soot particles" explained Mike Homrighausen, export sales director at Weber MT. "We rely on the highly advanced and tried-and-tested gas engines made by Honda. We benefit from their comparatively simple maintenance and Honda's exceptional service network."
Weber MT's selection of soil compactors with infinitely variable forward and reverse travel plus gasoline engine has grown extensively and now ranges from the CR 1 Hd, boasting an operating weight of just over 90 kg, to the new CR 9 Hd E, which weighs in at 670 kg and delivers 100 kN of centrifugal force, equipped with Honda's GX 630 gasoline engine. Its 75 cm working width can be extended to 90 cm, and it has an operating speed of up to 28 m/min. The CR 9 Hd CCD version also includes the COMPATROL compaction control system.
Source: Weber Maschinentechnik GmbH