Nominations
---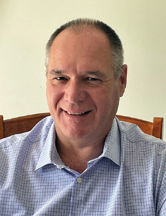 Aebi Schmidt Canada annonçait récemment la nomination de Jocelyn Romain au poste de président-directeur général. Il a débuté officiellement ses fonctions lundi le 13 juin dernier. Une période de transition aura lieu entre le président-directeur général actuel, Jean-François Hotte, et monsieur Romain.
Monsieur Hotte connait Jocelyn Romain depuis plusieurs années.
«Jocelyn est un homme d'action, fiable, réfléchi et authentique. Il a acquis de nombreuses compétences au cours de sa carrière et a un intérêt certain pour le développement de l'équipe et des relations clients. Selon moi, il est parfaitement outillé pour répondre aux objectifs de performance de l'organisation. J'ai confiance que Jocelyn saura prendre la relève de mon poste et assurer la prospérité d'Aebi Schmidt Canada», déclarait Jean-François Hotte.
Nous souhaitons la bienvenue à Jocelyn Romain et lui souhaitons le meilleur dans ce nouveau rôle.
Source: Aebi Schmidt Canada
---
JLG Industries, Inc. annonçait récemment la nomination d'Andy Daw en tant que nouveau vice-président des achats et de la chaîne d'approvisionnement mondiaux pour le segment Oshkosh Access, qui comprend les marques d'équipements aériens JLG® et d'équipements de remorquage Jerr-Dan®. Dans ce rôle, monsieur Daw dirigera les équipes d'approvisionnement mondial et de chaîne d'approvisionnement des marques, en fournissant une vision stratégique pour la croissance et en mettant en œuvre des initiatives à l'échelle de l'entreprise pour construire et maintenir une chaîne d'approvisionnement résiliente pour la société.
Andy Daw arrive à ce poste avec plus de 20 ans d'expérience professionnelle dans les secteurs des équipements lourds et des moteurs. Il aidera JLG à naviguer dans l'incertitude actuelle du marché en faisant appel aux fournisseurs mondiaux et nationaux pour faire partie de la solution.
Avant de rejoindre l'entreprise, Andy Daw a constitué et dirigé des équipes d'ingénierie et de chaîne d'approvisionnement diversifiées à l'échelle mondiale pour Caterpillar Inc. et Perkins Engines, Ltd. Il est titulaire d'une licence en commerce de la Birmingham City University.
Source: JLG Industries, Inc.
---
Felling Trailers Inc., un fabricant de remorques industrielles et commerciales, annonçait récemment la nomination de Mike Wolff au poste de coordonnateur des ventes internes - comptes nationaux. Monsieur Wolff gérera l'activité quotidienne des comptes pour les principaux partenaires de location nationaux de l'entreprise et les appels de ventes internes. Il sera responsable du développement des ventes, de l'activité et du soutien aux comptes.
Avant d'accepter le poste de coordinateur des ventes internes - comptes nationaux, Mike Wolff a occupé le rôle de coordinateur des ventes. Avant d'entrer chez Felling Trailers, il a travaillé dans une entreprise de produits agricoles en tant que directeur des pièces et spécialiste des itinéraires. Il a travaillé avec les propriétaires d'entreprises pour mettre en œuvre des mises à niveau et des réparations de systèmes et pour répondre à leurs besoins en matière de pièces et de fournitures.
Source: Felling Trailers, Inc.
---
Brokk annonçait récemment la nomination de Troy Steele au poste de directeur régional des ventes pour la région ouest du Canada. Monsieur Steele compte 16 années d'expérience dans la vente d'équipement et servira les clients de Brokk dans toutes les industries, y compris la démolition, la construction, les mines, le ciment, le traitement des métaux et le creusement de tunnels. Il servira également les clients d'Aquajet Hydrodemolition dans l'Ouest canadien.
Avant de rejoindre Brokk, Troy Steele a occupé le poste de directeur national des ventes pour Cyclone Diamond Products où il était responsable de toutes les ventes et dirigeait l'équipe de vente au Canada. Il a également occupé les postes de directeur du développement des affaires pour Champion Group, de directeur de district pour Wacker Neuson et de directeur de compte pour Hilti Canada.
Source: Brokk Inc.
Appointments
---

Curry Supply Co. recently announced the appointment of Rob Gray as its new director of marketing. In this role, he will lead the marketing team and work with developers, advertisers, and production managers to market products and services to drive sales and grow brand awareness. He will also take the initiative in generating qualified leads and ROI targets to achieve Curry's marketing objectives.
Gray graduated from Pennsylvania College of Technology with a BS in Graphic Design and has over 10+ years of experience in sales, marketing, and business operations. At the end of 2019 he sold the software company he was running to a private equity firm.
A family-owned company since 1932, Curry Supply has grown to be one of America's largest manufacturers of commercial service vehicles. With locations in Pennsylvania, Texas, and Arizona, the company is equipped to provide custom and work-ready trucks for the agriculture, construction, mining, oil and gas, rail, rental, and waste industries.
Source: Curry Supply Co.
---
Loftness, the manufacturer of vegetation management and agricultural equipment, recently announced it has hired Matt Morrison as its new director of sales and marketing. He will lead the sales effort by managing Loftness' territory representatives, establishing pricing programs, forecasting sales, and coordinating sales efforts with other departments, and help ensure a high level of customer satisfaction through technical and sales support.
Matt Morrison comes to Loftness with an extensive background in agricultural equipment sales. He most recently worked as director of sales and marketing for a diversified manufacturer of agricultural equipment, snow and ice removal equipment, and other products. Prior to that, he gained experience in international sales for two major equipment dealerships.
Loftness, an employee owned company, manufactures the VMLogix line of vegetation management equipment, the GrainLogix line of grain bagging equipment, the FertiLogix line of fertilizer application equipment and the CropLogix line of crop shredders.
Source: Loftness Specialized Equipment
---
McElroy recently announced the arrival of Eric Duerr as the company's new Purchasing manager.
Mr. Duerr brings 15 years of procurement, sourcing, and inventory management experience, mainly in the oil and gas industry. He has developed and led the performance of numerous purchasing and sourcing teams in the U.S., Canada, Egypt, and the UK.
Before arriving at McElroy, Duerr was the Western Hemisphere Strategic Sourcing Manager for TD Williamson in Tulsa. He holds a bachelor's degree in Economics from the University of Oklahoma and a master's degree in Business Administration from Oklahoma Christian University.
"Since its founding, McElroy has remained committed to providing our clients with the highest-quality products, and that level of service begins with the sourcing process," said Chip McElroy, McElroy president and CEO. "Eric has a proven track record of success, and we are happy to have him come on board to lead our purchasing department."
"Eric will be a valuable asset to our purchasing team, as we strive to continue exceeding the expectations of users of McElroy equipment," said Philip Maud, McElroy senior operations manager.
McElroy is the leading manufacturer and innovator in the science of joining thermoplastic pipe. The Tulsa, Oklahoma-based company offers the industry's most complete line of butt, saddle and socket fusion equipment for 1/2" CTS to 2000 mm OD pipe as well as quality assurance accessories that increase productivity and efficiency on the jobsite.
Source: McElroy Manufacturing