PrimaTEQ: A New Name for Tele Radio's Successful Compact Waist Transmitter

To remotely operate a crane or machine while still having both hands free for other tasks, is the major advantage of using a waist transmitter such as the Tiger T12. With a neck or waistbelt, the compact and versatile transmitter is always close at hand. It is no wonder that this attractively priced transmitter has been one of Tele Radio's most successful solutions for years.
From now on, the T12 will continue its career under the name PrimaTEQ to better fit within the rest of the range of waist transmitters. The functionality, however, will remain the same.
With a brand-new name for its smallest waist transmitter, Tele Radio aims to build a complete, recognizable, and logical product family structure. The PrimaTEQ, with the same functionality as the former Tiger T12, is the entry-level class solution. Above the entry-level, we have the 24 cm wide VersaTEQ and the SupraTEQ with a width of 33 cm. The line of waist transmitters is characterized by a high degree of flexibility, reliability, and safety. The receivers offer a solution for different bus protocols, analog or digital, input and output. Tele Radio can thus meet all the market's current needs.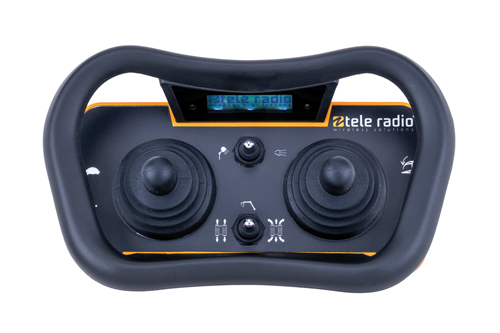 The PrimaTEQ is recognizable by its width of 21 cm and monochrome screen of 4.5 x 1.5 cm. The compact size makes the transmitter the perfect tool for long-term use in harsh conditions.
The PrimaTEQ offers a sturdy housing with ergonomic handles, an independently certified, PLe/SIL3 safety level, stop function and preprogrammed lifting and hoisting settings. With more than 10 different joystick versions, which operate at either 433 or 915 MHz, there is a standard, Basic Line version. Optionally, via the Custom Line version, a PrimaTEQ transmitter can be set up completely personalized.
Most of Tele Radio's transmitters meet high safety requirements and thus contribute to more efficient and safer working under high-risk conditions, such as moving heavy loads. The certified safety stop is always within reach of the user. To guarantee the highest level of safety, the products are independently tested by recognized notified bodies. Certificates of this are always available on request.
Source: Tele Radio AB