Transfer Flow Offers Gasoline Replacement Fuel Tank System
for 2020-22 Ford Super Duty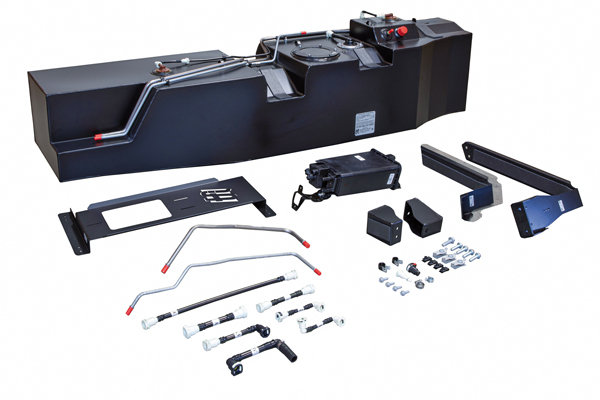 Transfer Flow offers a gasoline high-capacity replacement fuel tank for 2020-22 Ford F-250 and F-350 Super Duty short bed, crew cab pickups with 6.2 l and 7.3 l engines. The 220 l fuel tank system passed extensive emissions testing and has been granted an Executive Order from the California Air Resources Board (CARB).
The larger fuel tank increases the truck's driving range, allowing the driver to bypass more expensive fuel stations and fill up where gas is cheaper. It also reduces the need to refuel the truck as often.
The fuel tank is made from 12-gauge aluminized steel for superior strength and corrosion resistance and includes exterior fuel lines and a highly engineered evaporative emission system. Each fuel tank is equipped with internal baffles for additional durability and to reduce fuel slosh. This system has a complete installation kit, including straps and mounting hardware, to get the heavy-duty tank mounted and ready for the road. The fuel tank comes with a 6-year, unlimited mileage warranty.
Transfer Flow engineers and manufactures aftermarket fuel tank systems and vehicle accessories in Chico, California. Transfer Flow fuel tanks are for every need, including high-capacity replacement tanks, in-bed auxiliary tanks, refueling tanks, and fuel tank and tool box combos.
Source: Transfer Flow