Tsurumi Agitator Pumps Deliver Dependability in Slurry Applications

One of the largest challenges that contractors face when pumping slurry water is finding the right equipment to efficiently and seamlessly complete the job. Pumping from pits that contain sand, grits or debris requires heavy-duty equipment, specifically designed to handle abrasive materials to work continuously without failure. Agitator pumps are the answer.
Agitator pumps utilize an agitator propeller that shares the same shaft as the pump's impeller. While the 2 spin in the same direction, the agitator blades are in the opposing orientation to those of the impeller. The agitator provides a propelling force to stir up solids near the floor while the impeller pumps the now suspended solids along with the fluid. They keep the mud circulating to avoid solids from settling while allowing pumping to continue without obstructions.
"The use of agitators in coal mines and quarries is well known, but not everyone is aware that they can be used for any liquid containing solids that needs to be pumped," explained Kevin Boicken, Southeast regional sales manager at Tsurumi Pump. "We recently installed an agitator at a construction site that had solids suspended in the water being pumped. A standard dewatering pump could become suffocated by sucking the solids to the small hole screen, preventing the liquid to be pumped."
As they consistently handle rough, abrasive particles, it is crucial that they are made of strong, durable materials. Tsurumi's line of agitator pumps is manufactured with wear-resistant components such as high-chrome impeller and hard cast-iron volutes, which ensures higher durability and efficiency. To pump owners, this means minimum equipment downtime, longer lifecycles and lower total cost of ownership (TCO).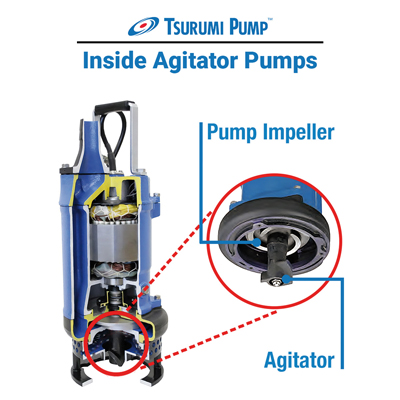 "Over the last 60 years, Tsurumi has built a reputation in North America as a provider of high-quality pumps in applications that require robust equipment, especially in mining activities. And that's mostly because of the materials they are made of," said Mr. Boicken. "When customers install our agitator pumps, we often hear that our pumps are heavier and feel much sturdier than competitor brands that use aluminium. While this material is much lighter, the pumps don't last as long."
Tsurumi's agitator pumps include 3 features that make them even more reliable: potted cable, oil lifter and thermal protection.
The potted cable is an extra layer of cable protection. In case of accidental nicking of the exterior cable, moisture will not wick through the cable or reach the motor. As a result, contractors do not need to rush to replace the cable. The additional cord protection prevents moisture infiltration and, ultimately, motor failure.
The pump's oil lifter allows for a longer mechanical seal life. Using the rotation of the shaft, the oil lifter spins and flings oil throughout the seal chamber. This provides lubrication and cooling of the seal faces down to 1/3 of normal oil level without the need of additional power or external equipment.
Finally, Tsurumi's built-in thermal protection component prevents motor failure due to overloading and accidental run dry.
Tsurumi offers several agitator pump models to meet specific demands of the application. Considered one of the largest of the agitator series, the GPN's feature side discharge up to 20 cm size and 3-phase, 4-pole motors of up to 50 hp for lower impeller tip speed that prolongs its life. The GSD's, often found at construction sites and mines, are equally popular. With discharge sizes up to 25 cm, they provide high performance.
Source: Tsurumi America, Inc.