Volvo Penta e-Mobility Solution in the Spotlight at ACT Expo

Visitors to the Advanced Clean Transportation Expo (ACT Expo), held last May in Anaheim, California, had the opportunity to gain first-hand insight into Volvo Penta's innovative and flexible electromobility solution, as well as learn more about the first 2 vehicles to enter production with this game-changing, emission-free driveline.
The electric driveline was featured in Volvo Penta's booth, just meters away from TICO's booth, which was announced as an early adopter of Volvo Penta's e-mobility solution back in March 2021.
Now, after successful testing and evaluation at customer sites, with positive operator and end-user feedback on machine performance, drivability and system packaging, TICO has revealed that it has secured the first orders for the Pro-Spotter Electric terminal tractor as part of a pre-series run. Integrating the proven Volvo Penta driveline, along with its batteries and e-accessories, the EV truck will be the first emission-free retail unit.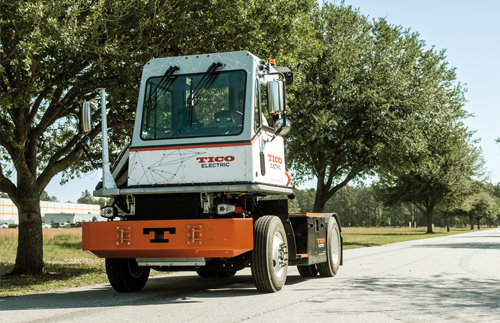 Volvo Penta's extensive powertrain and application experience, along with leveraging proven heavy-duty technologies from across the Volvo Group, is enhanced by working in close partnership with OEMs. This results in a tailored solution that is optimally packaged and installed to meet the exact needs of individual OEMs. This collaborative customer approach was key to the success of Volvo Penta's first industrial OEM electromobility partnership with Rosenbauer.
Customer testimonials about Rosenbauer's "fire engine of the future" were a highlight of ACT Expo. With the first North American model, named RTX, delivered to the Los Angeles Fire Department in early 2022, LAFD will be discussing how this revolutionary battery-powered fire truck has performed during its first year of operations in the field.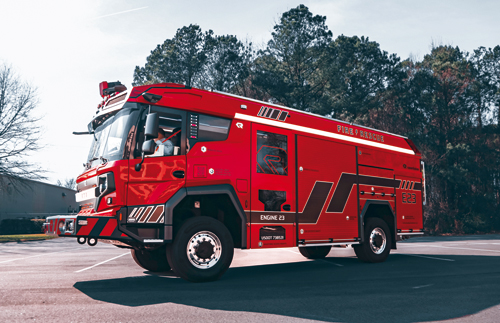 Volvo Penta, along with other members of the Volvo Group like Volvo Trucks, Mack Trucks and Volvo Construction Equipment, highlighted how they are driving the transformation towards sustainable transport solutions under the theme "Road to Net Zero". This was backed by a wealth of recent Volvo Penta projects that demonstrate a commitment to this journey, including the launch of Gradall's electric telescopic boom highway-speed excavator concept at CONEXPO-CON/AGG 2023, last March.
Further illustrating the commitment, Volvo Penta recently announced the expansion of its power generation business into battery energy storage systems (BESS) along with its first partner in the sector – decentralized and microgrid systems leader Utility Innovation Group (UIG). Volvo Penta has subsequently acquired a minority stake in UIG.
"In one form or another, our electric solution is now successfully operating, clearly demonstrating the incredible versatility of this superb technology," said Fredrik Högberg, president of Volvo Penta North America. "But the real secret to our success in each of these projects has been the development of highly collaborative partnerships, where the pooling of specialist knowledge produces results way beyond what could be achieved via the traditional supplier/customer relationship. We are eager to see what new possibilities lie in store for this driveline."
Source: Volvo Penta