The World's Largest Oil Refinery Project Is in Africa

Dangote Refinery, in the Lekki Free Zone near Lagos, Nigeria, has recently completed construction and begun production. Over the past few years, XCMG Machinery has participated in this mega refinery project with more than 2,000 units of equipment, including excavators, cranes, road rollers, and more, stationed in the construction and guaranteeing high-intensity, uninterrupted operation.
The Dangote Refinery project covers an area of 2,200 ha and has the capability to process 650,000 bbl/d of crude oil into refined petroleum products. It will help Nigeria become an oil refining country and significantly mitigate energy stability risks, freeing Nigeria from its dependence on oil imports. The refinery will produce 12,000 MW of electricity and create more than 135,000 permanent jobs.
XCMG's high-quality products and reliable services have safeguarded the smooth construction progress of the Dangote Refinery. During construction, the average runtime of a single XCMG excavator was more than 8,000 h. To cope with the harsh environment – as Lagos, a city by the sea, has high temperatures, humidity, and dust – XCMG made customized upgrades and improvements to ensure optimum performance.
The XE470D excavator was the main force of the project. It is equipped with the powerful, low-consumption, and environmentally friendly Cummins engine, coupled with an intake system that adopts a 3-stage filtration design. The inner and outer filters use Ultra-Web® filtering material, which increases the filtration rate to 99.99% to cope with the dusty air.
XCMG also deployed teams of engineers and technicians to the Dangote Refinery project, providing end-to-end, round-the-clock service to facilitate the on-site equipment.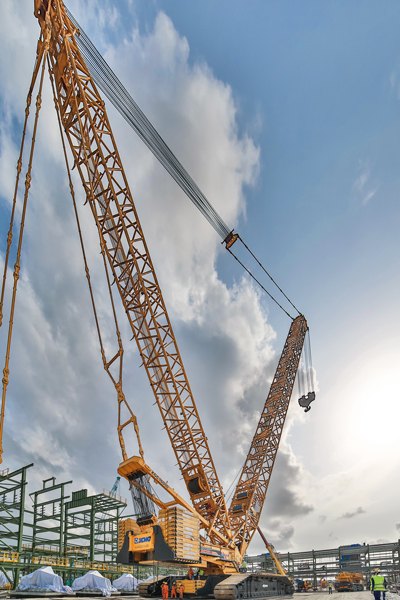 XCMG has been China's No.1 construction machinery exporter to Africa since 2017. XCMG's excavators and cranes are widely used in major infrastructure projects across Africa, contributing to improving and transforming local travel and living conditions.
XCMG's tower cranes participated in the Magufuli Bridge project, in Tanzania, leaping across Lake Victoria, the largest lake in Africa. Composed of a 3,200 m long super-large bridge and a connecting 1,660 m long approach bridge, it will become the longest bridge in East Africa and the longest low-tower cable-stayed bridge in Africa, connecting Gaita Province and Mwanza Province.
XCMG tower cranes ensured "precise, accurate, and stable" hoisting by adopting marine-grade coating technology and delivering stable and accurate slewing operations while adapting to the unfavorable working conditions and challenges.
In 2022, 13 units of XCMG road rollers were deployed to work on the Swak Dam, the largest integrated water conservancy project in Kenya, which, upon completion, would benefit 3 million people.
The XS263S large-tonnage road roller adopts the "3-in-1" super-vibration wheel and achieves extreme pressure equalization that achieves powerful performance and a service life of up to 10,000 h. XCMG's XS183S roller has increased compression strength to meet the compaction degree of the dam's clay soil, while the XMR083 lightweight roller focuses on the plasticity of the water barrier layer.
"XCMG has supported numerous infrastructure projects in Africa, from the Dangote Refinery to the Nairobi Expressway. We hope to leverage our leading advantages of construction machinery technology and equipment to support infrastructure development and create greater values for economic development and people," said Yang Dongsheng, CEO and chairman of XCMG.
Source: XCMG Machinery