Eaton Extends Diaphragm Spring Clutch Portfolio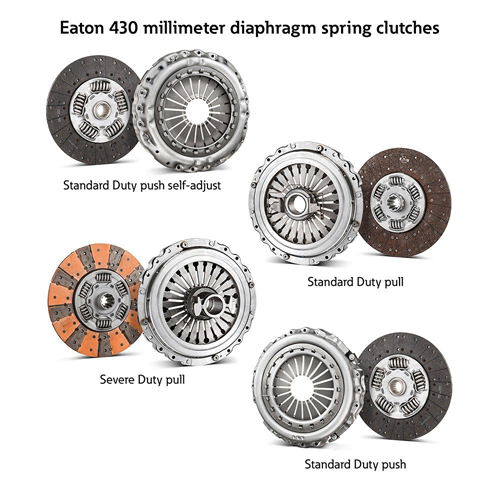 Power management company Eaton recently announced its Vehicle Group has introduced new additions to its diaphragm spring clutch portfolio for global heavy-duty commercial vehicles. The new clutches offer solutions for current and future powertrain technology advancements, including downsized and downspeed engines.
The 430 mm diaphragm spring clutch portfolio features the latest technologies for increased durability and longer uptime, as well as superior noise, vibration, and harshness (NVH) characteristics. The new diaphragm spring clutches are available in a variety of actuation styles and damper sizes.
"Eaton diaphragm spring clutches provide OEMs with integrated solutions that meet NVH and longer-life requirements," said Scott Davis, business unit director, Commercial Powertrain, Eaton's Vehicle Group. "The new Standard Duty, Severe Duty, and Extreme Duty designations within our portfolio allow us to provide a comprehensive line of clutches to our OEM and aftermarket customers."
To help meet global emissions and fuel economy regulations, many manufacturers are producing downsized and downspeed engines. Those newer engines produce peak torque at lower RPMs, which can create increased levels of engine torsional vibration. Eaton's new 285 mm diameter damper clutches are designed to reduce those vibrations and feature the first application of Eaton's Soft Stop technology in a heavy-duty application. Soft stops increase clutch durability by reducing stress on the damper springs during potential over-torque events.
Traditionally, heavy-duty diesel engines use a 232 mm or 254 mm diameter damper, which primarily mitigate engine vibrations from traveling through the entire driveline – through the clutch, into the transmission, down the driveshaft and into the axles – reducing damage and enhancing the driving experience.
"We're always looking at market trends, customer needs, and technology advancements to continuously improve our portfolio," said Mr. Davis. "By expanding our diaphragm spring clutch portfolio, our aim is to help customers pursue new powertrain advancements today and well into the future."
Source: Eaton, Vehicle Group