Transport Solutions for Multiple Applications
The new STEPSTAR series of self-tracking semi low-loaders offers top quality engineering, high payloads combined with a low dead weight, and an innovative load securing system. An intelligent loading area design and the MEGA loadable gooseneck are the key to optimum utilization of the overall vehicle length.
Goldhofer's tried and tested ADDrive is an equally uncompromisingly application-focussed solution. It combines the advantages of a towed and a self-propelled heavy-duty module. Such flexibility avoids the need to transfer the cargo from a road transport vehicle to one or more self-propelled transporters, which may be necessary more than once on certain routes.
The STEPSTAR series introduced in 2020 includes 3- to 5-axle self-tracking semi-trailers with an intelligent load securing system.
The new generation of ramps, which has been specially developed for vehicles with low ramp angles, combines convenient operation by radio remote with fast attachment and removal.
The extra-long and wide excavator arm recess is integrated in the load area and open to the rear so that excavators with bigger booms can also be easily moved. The series includes versions with 1 or 2 pairs of wheel recesses plus an extremely low – and therefore loadable – MEGA gooseneck.
In addition, the entire loading area can be fitted with the hard-wearing TraffideckGO polymer covering co-developed by Goldhofer. This not only saves weight but also reduces loading height compared with conventional wood or rubber flooring and at the same time offering the same high friction coefficient.
Wherever in the world heavy loads need to be transported over challenging routes and to difficult-to-access locations, Goldhofer's ADDrive is the equipment of choice.
Based on the Goldhofer SL family, users can operate this intelligent transport solution not only as a towed heavy-duty module but also as a self-propelled transporter. This avoids en route transloading, so that transport operations can be handled much faster and, above all, more economically.
With the mechanically disconnected drive system, the individual modules can be towed like conventional heavy-duty modules without heat build-up in the oil in the drive system.
Advertisement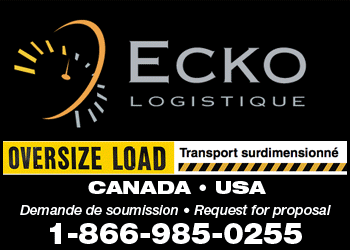 On inclines, bridges, confined sections of the route, and at loading and unloading points, the ADD mode comes with the tractive power for maximum performance in the train. In many cases, this eliminates the need for additional tractors or pushers, which greatly simplifies route planning and on-site maneuvering.
Flexibility is also the name of the game with regard to the combination options. At the GIS Expo, held October 7-9, 2021, in Piacenza, Italy, Goldhofer exhibited a 280 hp ADDrive that offers enormous power in the combination of hydraulic and 3 driven axle lines. Also, thanks to its multi-combination coupling it can be combined with most Goldhofer heavy-duty modules that are common in Europe and can naturally be used with various dropdecks and long-load turntables. The result is the ultimate in flexibility – for every operator's fleet.
With the help of ADDronic, a new synchronization software specially developed by Goldhofer, ADDrive can also be operated in combination with other self-propelled transporters and modules.
Source: Goldhofer AG