Comansa Overcomes the Logistical Challenges of an Historic Project for the Indian Railway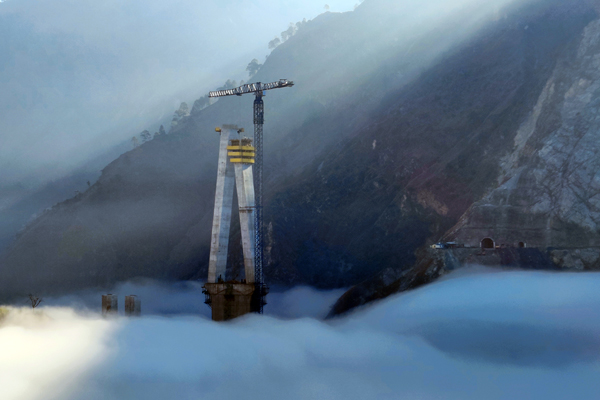 A Comansa 21-t 21CM550 tower crane is working on the construction of Anji Khad Bridge, the first cable-stayed railway bridge in India, 331 m above the river. This is an historic project for the Indian railway and it is viewed as an engineering wonder thanks to the difficulties involved in the construction process and the technology used.
In January 2017, Indian Railways awarded Hindustan Construction Company (HCC) the contract to build a cable-stayed bridge for the prestigious Udhampur Srinagar Baramulla Rail Link Project (USBRL) being developed by Konkan Railway Corporation Limited (a public company in India) to connect Katra and Reasi Station on the Jammu-Baramulla line.
Initially, an arch bridge was planned in Anji Khad but, in the end, an expert technical committee decided that the location was unsuitable for this kind of bridge and the decision was made to build a cable-stayed bridge with a single pylon standing above the riverbed.
To respond to the demands of the project and the challenge involved in constructing the pylon at such a remote, complex site, HCC selected a 21CM550 flat-top crane, in Comansa's 2100 series, designed to ensure optimal performance in projects where particularly heavy loads must be moved, such as those in bridge construction.
Thanks to its easy assembly and smaller space requirements, the flat-top design patented by the crane manufacturer has overcome the logistical challenges linked to the complicated topography in the area. Additionally, the automatic trolley change, along with the Power Lift system, allows variable loads to be dealt with efficiently while ensuring the crane achieves maximum efficiency.
In addition to these logistical challenges linked to topographical aspects, Anji Khad Bridge is being built in a difficult terrain. This factor is not a problem either, given that Comansa cranes are equipped with a lightning protection system that has been designed to prevent damage to electronic devices. Furthermore, they are designed to withstand wind pressure in accordance with European C25 standards.
In addition, Comansa is enjoying the collaboration of M/S Escorts Limited, its local partner in India, which allows it to use a trusted technical service and acquire spare parts as quickly as possible in order to meet the project's demanding deadlines and open this great project in December 2022.
Source: Linden Comansa, S.L.