New Product Solutions for Road Maintenance at GaLaBau
Unimog supports private sector and municipal enterprises in creating and maintaining green living spaces. Urban green spaces and sustainable private gardens are becoming more and more important in light of the effects of climate change. This is why GaLaBau, Europe's leading trade fair for horticulture and landscaping in Nuremberg, was held last September 14-17, with the motto "Together we are prepared for the climate of the future".
Mercedes-Benz Special Trucks, together with Unimog ExpertPartners Bucher Municipal and Mulag, demonstrated the performance of their Unimog-based work combinations and how these can help with climate protection at their joint stand with Mercedes-Benz Unimog general representative Henne Nutzfahrzeuge.
With 3 exhibition vehicles, Mercedes-Benz Special Trucks proves the importance of the Unimog equipment carrier for professional and environmentally friendly road maintenance:
The U 535 showcased attachments from Mulag to the trade fair. These make it a versatile partner for demanding green care tasks in road service. The combination mower, which has a front boom and verge mower, is used on the front mounting plate. It efficiently processes difficult areas of roadside greenery, for example, verges, depressions, ditches, and dividing strips or medians. The rear boom has a suction device for disposing of the resulting mowing in a cuttings trailer. Boom units can be upgraded with different implement variants to perform any number of tasks related to grass verge maintenance for summer service. The greenery maintenance head plays a special role in environmental protection. Its special cutting mechanism is scientifically proven to meet the requirements for insect and plant protection.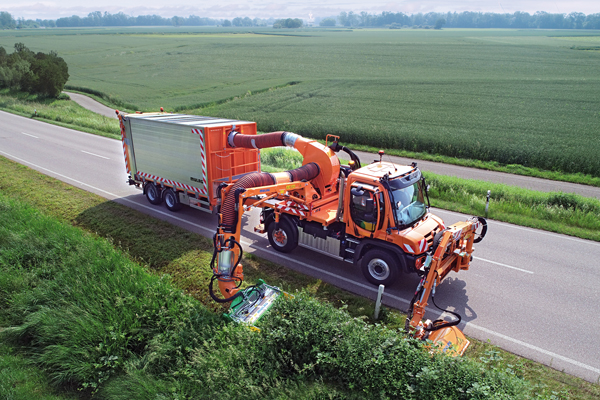 The U 327 combined spreading, cleaning, and snow clearing functions. This model also offers a platform suitable for transport and crane work. This vehicle from the medium-duty series is therefore the ideal companion for municipalities, contractors, and service providers. Bucher Municipal showcased this vehicle with a telescopic snowplow and a spreader. The snowplow's clearing width can be continuously adjusted hydraulically. It is also equipped with a neoprene edging strip, which is extremely durable, low noise, and protects the road surface. The spreader features a twin-screw system, both with a salt and brine content of 50%. As shown, this means a dry volume of 2 m3 and a brine volume of 2,000 l. In addition, this series is capable of applying pure brine (FS-100 spreading method).
The U 219, in turn, marked the introduction to the world of Unimog equipment carriers. This vehicle is tailored to the needs of smaller enterprises and municipalities in particular. It can be deployed in any season, which means it can be fully utilized and operated economically. This is typified by the exhibition vehicle with its wet salt spreader design from Bucher and its Mulag boom with front hedge trimmer. The spreader has a dry volume of 1.6 m3 and a brine volume of 640 l. The twin-screw system allows for a very low tank design. This has significant benefits for the driver during work. On one hand, drivers benefit from a perfect, all-round view thanks to the low tank height. On the other hand, the body's low center of gravity means that the vehicle handles safely in all situations. With a working width of 2 m and a range of 7 m, the efficient front boom and attached hedge trimmer can be used to maintain trees, shrubs, and grass during the transition between summer and winter. A selection of more than 20 implements means the boom can be used all year round.
A wide and attractive range of equipment is provided for the Unimog so that it can do its work perfectly. All commercial customers and the public sector can choose from 3 packages which combine essential options and offer price advantages compared to individual orders.
Source: Daimler Trucks Holdings AG