A Preview of Conexpo-Con/Agg 2005
Ground Heaters Introduces E2200 Model With Increased Capabilities
In an effort to further improve its current Ground Heater product line, Ground Heaters Inc. has introduced the new E2200 Ground Heater offering greater thawing and curing capabilities. Replacing the old E1700 Ground Heater unit, the new E2200 incorporates more hose, more pumps and a more powerful hydronic heater than the previous model.
Utilizing the same basic principle that Ground Heaters originally introduces, the new E2200 increases productivity by allowing equipment and crews to keep working all year long. It enables contractors to prepare building sites and pour concrete, even in the coldest conditions. Able to thaw up to 3300 ft2 of frozen ground at a rate of one-foot-deep per day, the E2200 can also heat up to 4400 ft2 of ground, indoors or out, to prepare for concrete placement, to prevent frost penetration or to assure proper concrete curing.
Source: Ground Heaters, Inc.
---
Big ideas come in small packages
Throughout Champion's 25 year history, engineering has been a primary focus in the development of the compact graders.
Some of Champion's "big ideas" for compact graders are obvious even from a distance. Whether a Champion customer chooses a canopy-style operator's compartment or an enclosed cab, the compartment frame is sized so even a beefy operator can work in comfort.
More big ideas are in the works. Additions to the Champion line are in design now, while the company rolls out specialized attachments, such as a coldplaner attachment and a vibratory compaction drum, that take advantage of Champion's engineered strengths.
Champion Motor Graders, the newest company in the construction equipment industry that can also look back on a long and successful history. Champion manufactures four basic models of single axle, tandem and All Wheel Drive Motor Graders with operating weights ranging from 12 000 to 15 500 lbs.
Source: Champion Industries LLC
---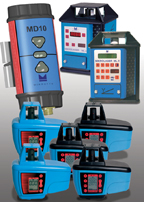 Mikrofyn Introduces a Complete Range of Lasers & Machine Controls
Mikrofyn A/S, a well established Danish manufacturer, introduces its full line of lasers and GPS/LPS automatic machine controls to the North American market.
Mikrofyn was the first to successfully use the microprocessor in construction lasers-machine controls, the first to introduce and further develop machine control systems based on the CAN bus interface, the first to develop a laser with remote control electronic rotation of the optical axis, as well as the first to present the unique "Servo-Lock" for an electronic mast.
Mikrofyn products feature the most rugged and durable designs on the market. Jobsite friendly features that are second to none.
The company has a commitment to producing the finest construction lasers and machine control systems in the world.
Source: Mikrofyn A/S
---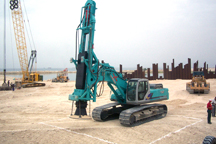 BSP International Foundations at Conexpo 2005
Ipswich UK-based BSP International Foundations, one of the world's leading designers and manufacturers of hydraulic piling hammers, drills, rapid impact compactors and ancillary piling equipment, will be exhibiting at Conexpo 2005.
The company's pictorial display within the British Construction Equipment Association's exhibition area, highlights some of many civil engineering contracts on land and offshore where BSP's piling hammers and rapid impact compactors (RIC) have made significant contributions in bringing these projects to a successful completion and on schedule.
Since its formation 100 years ago BSP has always been at the forefront in the design and manufacture of innovative products. Apart from piling hammers, one of the company's most recent developments is the rapid impact compactor (RIC) now in service with a steadily growing number of foundation contractors in the UK and overseas. A number of units are operated by Vancouver-based Rapid Impact Compactors, Ltd.
Source: BSP International Foundations
---
Perkins goes quiet on engine noise
Perkins Engines' OEM customers are set to receive a big boost in their quest to meet new machine noise regulations that come into force in January 2006 concurrent with the launch of the 1100D Series engines. The European Union directive 2000/14/EC will force most manufacturers to effectively halve the noise emissions from new equipment and while there are many components that contribute to the level of machine noise, the engine is a significant source.
The arrival of the new generation 1100D range is expected to make OEMs' lives a lot easier as they migrate existing machinery to the new engine. Not only will they get a quieter engine but the noise "signature" is much more refined than previous units, attaining almost "automotive-like" quality.
Source: Perkins Engines Company Limited
---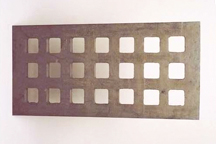 Durex Self-Cleaning Rubber Screen Media Delivers Higher Production
Durex Products, Inc. has engineered its line of Dur-X-Kleen self-cleaning rubber screen media to significantly increase production by eliminating impact damage, plugging and blinding. Field proven to deliver up to 30% higher production, Dur-X-Kleen rubber screen media eliminates the costly labor and downtime associated with screen cleaning. Designed with molded, tapered openings and a flexible self-cleaning action, screen openings remain clear and material flows at full capacity.
The Dur-X-Kleen line is particularly suited to applications that involve dry, high impact material or fine, sticky or near-size material. Rubber screens absorb high impact and hold up much longer than metal or urethane alternatives when subjected to a constant barrage of dry material. When installed in a vibrating screen box, the rubber screen's flexibility presents amplitude greater than the stroke of the machine. Combined with the tapered openings, a self-cleaning action is then realized. Fines will not blind or plug the surface and rejected particles are thrown out if the openings as the screen vibrates. Sizing is also more accurate.
Available in a variety of mounting styles, Dur-X-Kleen rubber screen media can be custom-designed in bolt-down, modular, or side-tension versions to fit any existing screen box. Modular systems easily snap into place and can be easily installed by just one person.
Source: Durex Products, Inc.
---
Johnston Madvac introduces the Madvac CN100 Sub-Compact Sweeper
The Madvac CN100 is big on visibility, safety, efficiency and performance.
This high profile, cost-efficient cleaning machine safely and effectively sweeps and vacuums a variety of surfaces from city sidewalks and walkways, to alleys, indoor and outdoor parking lots, bikes paths, streets and much more.
With its compact size, large capacity, exceptional maneuverability and outstanding safety and comfort, the Madvac CN100 is ideal for cities, villages, shopping malls, hospitals, and urban centres.
Source: Johnston Madvac Inc.
---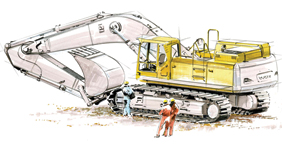 Volvo CE Will Present Its New 70 ton Hydraulic Excavator
Volvo Construction Equipment is in the final development stages of a new 70 ton Volvo hydraulic excavator. This machine will be presented to the worldwide construction industry at the Conexpo 2005.
The excavator will be shown in two different configurations: one will have a standard boom and arm and the other a mass excavation boom and arm.
Volvo Construction Equipment will begin production of the 70 ton excavator during the last quarter of 2005, for delivery to all markets.
Source: Volvo Construction Equipment