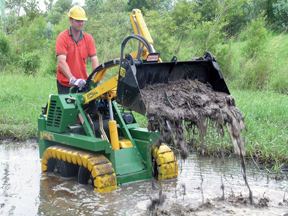 The new 7 Series Kanga Loader
'Fat Track' Model
Along with Kanga Loaders' best products, the new 7 Series Kanga Loader 'Fat Track' Model will be displayed at CON EXPO, Las Vegas. The designers of the world's first stand on skid steer loader are proud to be displaying the latest developments in compact construction equipment to the USA Marketplace. The defining feature of the 7 Series is the fulltime non marking tracks. The tracks and increased ground clearance (7.6" (194mm)) enable productive operations in all weather conditions including rain, mud, soft sand, wet conditions and snow. The low ground pressure also minimizes site and turf damage. With a range of Gasoline or Diesel engines up to 24HP, there's pulling power to get the most difficult jobs done fast.
"We wanted to offer a smooth and fast track machine to our line up of Kanga Loader products," said Alan Porter, Managing Director of Kanga Loaders. "It is a maintenance free track system with very few parts. The tracks are non-marking and the segments are replaceable.'' This, Porter said, makes it ideal for internal and external construction as it can be used by contractors, farmers, landscapers, and professionals working in the construction, demolition and maintenance professions.
The technically advanced 7 series models DL 720 (diesel) and G 724 (gasoline) were introduced in Kanga Loader's 27th year of operation. The new product offering shows how far the designers of the world's first mini loaders have come since developing their early concept of motorised wheelbarrow. The success of the 7 series has served to cement their position as market leaders in mini skid loader design and manufacture.
The Kanga 'Fat Track' is operated as a stand-on machine with an affixed stand-on platform. From the platform the operator has 360o visibility and protection from the terrain they are working in. Smooth fingertip controls operate the direction and speed of the machine and the operation of over 40 attachments that are available to use with the machine. Kanga offers a safer and cost effective alternative to using heavy and cumbersome handheld power tools and also offers protection against work injuries including those caused by heavy lifting. No handheld power tool can compete with the level of worldwide conformance to Occupational Health and Safety that is offered by Kanga. All Kanga's innovative safety features are standard equipment on 7 Series including self levelling bucket, auto auxiliary cut out and fully sealed transmissions.
This is the perfect tool for external and internal work, particularly in tight corners and small spaces that larger machines can not reach. Kanga Loaders are ideal for post hole boring, curb lifting, cleaning out livestock stalls, carrying feed and fertilizer and heavy loads, snow clearing and a plethora of other applications. The Fat Track is also the perfect trenching partner, just like a Sherman tank it will go straight over the top of trenches, saving time and maximising productivity.
In addition to the 'macho' tracked Kanga there are five different models available ranging from 24 horse power right down to 13 horse power, the baby of the family is the Kanga Kid 'micro' model. Not only are Kanga Loaders safe and fun to use, attachments are quick and easy to change and no formal training is required to use the machines. Hard core industry testing in Australia has contributed to making the Kanga Loaders compact skid steer the most refined and user friendly product available worldwide.
Kanga Loaders offer a solution to virtually all manual labour, increasing productivity and greatly reducing exposure to risk, personal injury and HAV (Hand Arm Vibration). The Australian designed and built machines have also set new standards for Return on Investment (ROI). The smaller size of the Kanga, by comparison to the others in the market, does not reflect in any sacrifice of power. All models and attachments can be seen at the Kanga Loaders website www.kanga-loader.com. Call Compact Power Inc. Toll Free on 1866 875 2642 or email kanga@Kanga-loader.com. To find out exactly what a Kanga can do for you visit booth G212 at CON EXPO 15-19 March 2005 in Las Vegas.
Source: Kanga Loaders