Municipal Geomatics

---
Jean-François Dubois
For the past several years, the geomatics sector has experienced consistent growth and extended its reach into the municipal world. Several larger cities have already taken measures to initiate the process of geomatisation and have acquired an effective data structure and technological platform to allow for maximal use of information, but what about smaller cities?
In effect, the question arises because smaller municipalities do not necessarily have the resources, human, financial, or material, to deal with what is at stake. Understandably, some municipal managers are reticent to confront this phenomenon. With this in mind, there are solutions and decision-making tools which can help with the integration of geomatics within a municipal organization. With these few lines, I will briefly attempt to answer certain questions which could preoccupy some municipal managers.
Why geomatics?
This is a legitimate question, considering that municipalities have always been able to function and this even before the arrival of computers. The difference is that today, managers have to do more with less and this is where geomatics comes into play.
The possibility of incorporating descriptive data with geographical information becomes a powerful decision-making tool. For example, to decide which section of the road should be repaired the following year becomes much easier when one can view the entire state of the road network at a glance.
The process of geomatisation should be seen as a logical continuation of the data entry within the municipal organization. Consider that no one today questions a computerized system of taxation.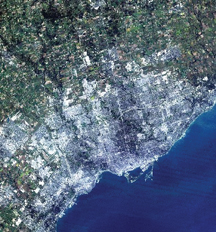 Where to begin?
The number one priority for a municipal entity wishing to acquire geomatic tools is to first establish its needs. What type of information do we wish to collect and for what purpose?
The choice of a GIS (Geographical Information System) remains an important step considering that it is this system which will collect geographical information in order to make it available for easy consultation. The GIS must be powerful and easy to use.
Furthermore, it is vital that an expert in the field be hired so that he or she can coordinate the process of geomatisation in the best interest of the municipality.
Yes, but at what cost?
Clearly, undertaking a well planned and structured geomatisation process is not possible without an important investment. As the tools of geomatics are the fruit of an advanced technology, it goes without saying that business solutions in this field can, in some cases, be very costly.
The recourse towards partnerships with other municipal and governmental organizations can be very interesting in order to gather certain information and reduce costs. Furthermore, it can be advantageous to consider sharing equipment (GIS, GPS, software, etc.). The savings will allow a better return on investment.
A few available resources:
Municipal managers can turn to the following partners for help in implementing geomatics within their organization:
Geomatics Industry Association of Canada;
Alberta Society of Surveying and Mapping Technologies;
Canadian Institute of Geomatics;
L'Association de Géomatique Municipale du Québec;
Le Centre de développement de la géomatique;
Le Centre de Géomatique du Québec.
This list is obviously not very extensive but does offer certain avenues where managers can find answers to their questions.
In addition, the MAMSL has published a document intended for municipal managers that acts as a guide to decision-making regarding geomatics.
Having taken gigantic steps in certain fields, geomatics is here to stay and will continue to evolve. Municipalities will not be able to avoid it. In this context, municipal managers must consider embarking in this field well informed and with an open mind.