Dawes Specialized Transportation Receives "Zero Accidents" Award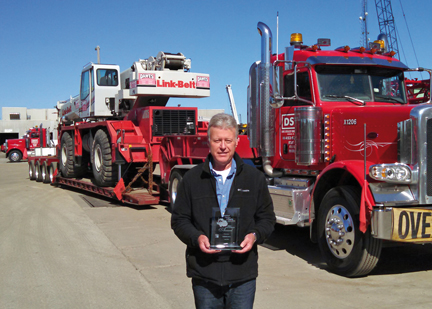 DST Inc. (Dawes Specialized Transportation), the nationwide trucking division of Dawes Rigging & Crane Rental, Inc. (a member of the ALL Erection & Crane Rental Family of Companies), was recently honored for its outstanding safety record. The company received a "zero accidents" award at the Specialized Carriers & Rigging Association's (SC&RA) 2014 annual conference in April. The award reflects the association's mission to safely, legally and profitably transport, lift and erect oversize and overweight items.
DST has received dozens of safety awards over the years from safety and crane industry organizations.
"We're pleased to be recognized by the SC&RA with this award, because it means lives are being saved," says Wayne P. Kokta, transportation manager at Dawes/DST. "We work diligently to ensure proper procedures are followed every single day. This award is shared among all of our dedicated employees."
To ensure continued focus on safety compliance and service procedures, Dawes' parent company, ALL, invests more than 50,000 man-hours into employee training each year. Their corporate culture mandates that safety be the absolute top priority every day. This award reflects that company-wide commitment.
The SC&RA is a trade association of nearly 1,300 member companies from 43 nations. Members are involved in specialized transportation, machinery moving and erecting, industrial maintenance, millwrighting, crane and rigging operations, manufacturing and rental.
Source: ALL Erection & Crane Rental Corp.