Snowfall Proves to Be Windfall
---
Christopher Weishaar, Two Rivers Marketing on behalf of Bobcat Company
Special Collaboration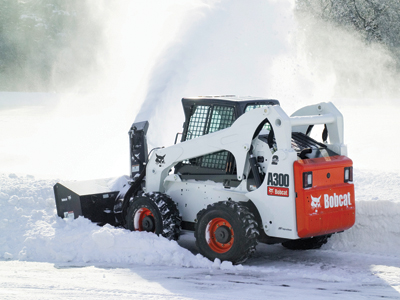 Diversification is key no matter what business you are in. For building service contractors living in colder climates, they only have to look out their front windows during the winter to discover a new outlet that could bring them big profits.
Snow removal is a line of work more building service contractors are entering to help supplement the janitorial and interior maintenance services they provide. Providing such exterior maintenance has proven to be a lucrative endeavor for many, as the interior maintenance field becomes more competitive.
"Many building service contractors in government agencies and in the private sector are looking at snow and ice removal as an added service," says Brian Birch, membership administrator for the Snow and Ice Management Association (SIMA).
But to get started, building service contractors must invest in equipment that is entirely different than what already exists in their fleet. Rather than purchasing large pickup trucks with snow blades, they are discovering the versatility of compact equipment, which can also be used to perform other exterior maintenance during warmer months.
"Contractors use compact equipment because often times a pickup truck is too cumbersome and can't fit into tight spaces," says Bobcat Company marketing manager Rob Otterson. "For example, many automobile dealers are realizing that a utility work machine or skid-steer loader can maneuver around tightly parked cars and remove snow on their car lots much faster than a pickup truck with a snow blade."
One of those car dealers is David Weaver, president of Wheeling Automotive Group in Wheeling, West Virginia, who uses a Toolcat™ utility work machine to easily maneuver around his car lots, plowing close to vehicle inventory and buildings. He says he saves time by not moving his entire inventory of 200 cars prior to plowing, which is what he had to do with previous equipment.
Attachments are another reason compact equipment is so versatile. No matter what tool carrier contractors choose, they can switch between a number of attachments to sweep, plow, and blow snow.
But each piece of equipment has its own advantages when it comes to certain tasks. That is why Mr. Otterson advises building service contractors to evaluate the type of snow removal work they intend to take on, so that they can then purchase the compact equipment right for the job.
Skid-Steer Loaders
With the ability to turn within their own length, skid-steer loaders' maneuverability and agility allow them to remove snow in the tightest quarters, such as crowded parking lots. They also have the power to perform heavy-duty work efficiently. And unlike a pickup truck with a snow blade, a skid-steer loader is able to push, pick up, and move snow.
"The dumping ability and large number of attachment options enable the operator to remove snow more efficiently," Rob Otterson says.
The attachments most commonly used with skid-steer loaders are the snow blade, snow V-blade, angle broom, snowblower, scraper, whisker broom, and buckets.
Due to time constraints, building service contractors cannot always make it to jobsites before cars drive over the freshly fallen snow. So for snow removal jobs that require removing hard-packed snow and ice, Mr. Otterson suggests using a scraper attachment because of its self-sharpening cutting edge.
For clearing more than 15 cm of snow, the snowblower attachment is ideal for blowing snow away from the area, into a pile, or into a dump truck. And for lighter snowfalls, attach either an angle broom or whisker broom. In addition to clearing parking lots, sidewalks, and pathways of snow in the winter, they can be used year-round for sweeping away dirt, leaves, gravel, and other debris.
Snow buckets also plow snow, but they are best used for piling snow and loading it into a truck. The snow bucket, which ranges in width from 166 cm to 255 cm, has a round back to aid in dumping.
Depending on the jobsite and amount of snowfall, operators might spend hours upon hours in the machine, so comfort features can play a role in productiveness. An enclosed cab with heat, selectable joystick controls, and a suspension seat are just a few features that help make operators' jobs easier.
All-Wheel Steer Loader
The advantage of the all-wheel steer loader is that building service contractors get two machines in one. Operators can quickly change from skid-steer mode to all-wheel steer mode with the flip of a switch inside the Bobcat A300 all-wheel steer loader.
The steerable axles of the all-wheel steer loader increase comfort when riding or turning on hard surfaces and enable the operator to direct tractive effort, minimizing spinning and sliding when pushing snow. The all-wheel steer mode also greatly reduces rubber marks left by the tires when turning on concrete.
When it comes to pushing snow, experts know that speed improves blade performance. By using the standard two-speed transmission on the A300, operators can choose the 19 km/h high-speed setting to build momentum. The momentum and snow work together resulting in the snow rolling better off the side of the blade.
Toolcat Utility Work Machine
The benefit of purchasing a Toolcat utility work machine is that it combines the best features of a utility loader, pickup truck, and attachment carrier into one machine. The utility work machine is especially popular among building service contractors who hire seasonal workers because of its hydrostatic transmission, which includes a drive pedal, steering wheel, and simple shifting.
The machine's four-wheel drive and weight distribution provides the traction and pushing power needed for fast and efficient snow removal. Because it has all-wheel steering and a tighter turning radius than most golf carts, the utility work machine is often used for plowing snow in tight areas, such as crowded parking lots and in and around buildings. The machine can also travel up to 29 km/h to quickly go from jobsite to jobsite.
Again, operator comfort is another reason building service contractors might choose a utility work machine. Its large enclosed cab with optional heat and air conditioning has a suspension seat, easy-to-use controls, cruise control, and tilt steering, which can translate into more billable hours in one outing.
In addition to the attachments mentioned previously, a spreader attachment can be mounted in the Toolcat 5600 utility work machine's cargo box and can be used to spread sand, salt, and other chemicals on sidewalks and pathways. The machine's 1,5 m width allows it to fit between most sidewalks and pathways, making it ideal for such snow removal applications.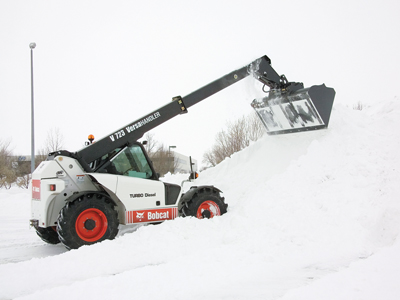 Telescopic Tool Carriers
If you plan to take on larger snow removal jobs such as mall parking areas, Rob Otterson says a telescopic tool carrier can provide you the extra speed and lift you need.
The VersaHandler® telescopic tool carrier can travel as fast as 30 km/h and is available with lift heights of 5,2 m to 11,6 m, depending on the model. The travel speed enables the machine to more effectively push and pile a large volume of snow. And the increased lift height enables operators to pile snow higher than a one-yard loader and more easily load dump trucks.
Another advantage of telescopic tool carriers is their ground clearance, which enables them to easily travel across snow-covered areas. And the 2-speed hydrostatic transmission on the VersaHandler telescopic tool carriers features a creep function, which provides dynamic braking and controlled movement while inching up and down slopes.
The attachments most commonly used with telescopic tool carriers for snow removal are the angle broom and regular and snow buckets.
Snow removal experts will tell you one of the keys to success in this business is learning to use different tools that fit the specific environments you are servicing. That is why in recent years professional snow and ice management companies have turned to compact equipment and attachments because by interchanging attachments, they can tailor one machine to perform a variety of snow and ice removal tasks.