SPS: A Bridge Sandwich...
---
Jean-François Dubois,
Special Collaboration
Repairing a bridge or an overpass generally comes with a string of technical and financial constraints. Pushing those involved to seek alternative approaches, Solicor, a division of Canam Group Inc., proposes a new technology which will reduce both time and costs associated with traditional restoration methods.
The SPS technology (Sandwich Plate System), for which The Canam Manac Group obtained a license in June 2003, was invented by Intelligent Engineering Holdings Limited and has been developped in concert with BASF. It is a composite material in which two metal plates are bonded to a solid elastomer core. The elastomer provides continuous support to the steel plates eliminating the need for additional stiffeners. The stiffness and strenght of the SPS plate can be tailored to meet particular static and dynamic structural requirements by varying the thickness of the sandwich elements.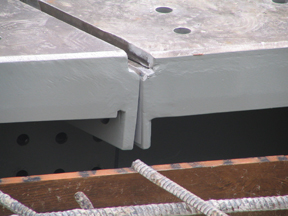 Apart of the lightness and expected lifespan of the material, one of the great advantages of this new technology is the speed and ease of assembly.
Last Fall, the bridge over the Massawippi River, located in the City of Sherbrooke's Lennoxville borough, was the subject of a rehabilitation project which included, amongst other things, replacement of its old concrete deck.
Due to a lack of room on each side of the bridge, the construction of a temporary bridge was not feasible. Closing that section of road to circulation for several weeks was not possible because of the significant amount of traffic - 13 000 vehicles per day.
Furthermore, in order to meet the new code requirements, a new concrete deck would have had to be made thicker and the added weight would have required reinforcing the main structure of the bridge.
These factors led the stakeholders to choose an alternative solution. The use of SPS plates reduced the complete closure of the bridge by several weeks. The lightness of the new structure meant that bridge's arches could be preserved with their heritage value.
Used primarily in the fabrication of decks on ships and offshore drilling rigs, the SPS plates have proven their durability and strenght in an hostile environment. They are slowly emerging as a more than viable option in the field of civil engineering.
SPS plates are produced at Solicor's plant in Laval, Quebec. The high quality, high tolerance plates are tailored to each project and are delivered onsite with all the required fittings, ready to be installed with a conventional crane through bolting and welding. The plates even come equipped with all the hardware required for the installation of safety railings, street lights, and traffic signs if required.
With numerous realisations in Canada and all over the world (see news release), the Sandwich Plate System offers interesting opportunities for those in search of efficiency in the construction or refection of structures.