AggFlow with Terex Finlay Track-Mounted Equipment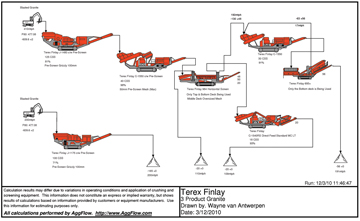 BedRock Software, LLC is pleased to announce the addition of Terex Finlay Track-Mounted equipment to its AggFlow simulation program. BedRock, working with Terex Finlay engineers has developed and introduced the complete Terex Finlay line of track-mounted crushing and screening equipment. "The addition of Terex Finlay mobile equipment to AggFlow, along with our recent expansion in the wash and water simulation capabilities of the program, are important steps for the benefit of our customers and the industry globally" said Robert Teller, managing partner of BedRock.
AggFlow is used by aggregate producers, equipment manufacturers and dealers in more than 90 countries to simulate aggregate and mining operations. AggFlow users can calculate mass aggregate and mass water balances flowing through a plant simulation using both stationary and mobile equipment. Thus optimizing and maximizing production of desired products.
Wayne Van Antwerpen, Terex Finlay's Product Support & Training manager summarized the development by saying "We always need to recommend the best possible plant layout for our dealers and customers. AggFlow helps us achieve this. AggFlow is a valuable tool that is fast and easy to use. For many years the program has played a key role in our business. Now, the inclusion of our mobile equipment range in AggFlow will benefit our dealers and customers time and again with accurate machine layouts and calculations."
AggFlow simulations help improve profitability by identifying inefficiencies and bottlenecks; by accurately assessing the impact of proposed changes or new equipment before they are made; and by reducing plant down-time and production errors. The program is popular because it provides quick access to technical data; the ability to conduct unlimited "what-if?" scenarios, accurate unbiased answers and it is easy to use.
Users can select from the pre-populated equipment data library or install their own equipment models in the program using the generic equipment application. Currently, the program provides calculations for more than 4000 models of aggregate crushing, screening and washing equipment. BedRock is constantly adding to the data library and will add equipment upon request.
Source: BedRock Software, LLC