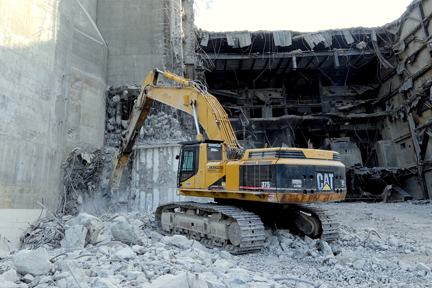 Atlas Copco HB 7000 Breaker Turns a Nuclear Facility into a Valuable Property
Indiana's only nuclear facility has not been notable for anything other than being an eyesore and a 30-year-old unfinished project. Now MCM Management Corp. is reclaiming the property with the help of Atlas Copco breakers and is turning the property into a valuable piece of riverside land. To do that, MCM is clearing land occupied by administrative buildings, outbuildings and thick concrete and rebar-covered silo and containment structures built literally nuclear blast proof.
MCM owns 233 ha of this property, of which 760 m are along the Ohio River. The nuclear power plant was known as Marble Hill and is located north of Louisville, Kentucky, and south of Madison, Indiana.
Construction began in 1977 and was halted in 1984 with Unit 1 approximately 80% complete and Unit 2 40% complete. A proposal in June 1984 to complete the project was made by three of the major construction contractors but was rejected because it required Public Service Indiana to continue to find financing for the $7,1 billion project.
Mark Ramun, vice president of MCM Management, said, "Nobody ever considered how it would be to take apart. Conventional tools don't exist to handle it. The amount of engineering we've done so far just to get to where we are has been extensive."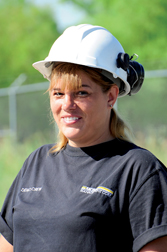 MCM worked with Columbus Equipment, an Atlas Copco dealership in Cincinnati, Ohio, managed by Jeff McVey. Fred Wahl handled the sale and said, "This job required breakers bigger than most of our customers regularly use."
Dan Perry, MCM equipment manager, said, "Challenging isn't even a word for it. It could not be destroyed." He has worked in the equipment industry for 30 years and has seen a lot of demolition projects, but said this one was unique. He noted that the company's 11 t wrecking ball was supplemented by the Atlas Copco HB 7000.
Denise Brown is site manager for MCM. She has been in the construction and demolition business her whole life, hanging out with her father on job sites since she was a kid. She said about the Marble Hill construction, "They didn't skimp on rerod. The silos are 1,5 m thick concrete with rerod everywhere."
The hydraulic breaker's job is to expose the rebar so the silos can be imploded and laid over on their sides and to remove the concrete structure separating the two silos. The silos would not tip if the structure behind is intact. The idea, like cutting down a tree, is to give the structure a wedge on one side and a stress point at which to break on the other. The breakers have to remove the building to allow for that break point.
Throughout the project the concrete surrounds the steel rebar like a thick skin. To determine what explosives are necessary to implode the silos, test shots are necessary. Test holes (7,5 cm in diameter and 0,4 m deep) are drilled to load dynamite. Dynamite is loaded at 1,6 kg per drilled hole in a 0,91 m x 1,06 m pattern. To drill the holes up to 21,5 m up the sides of the silo, MCM uses an air drill mounted on a hydraulic fork lift.
Subcontractor Chicago Explosives is the blasting contractor on the job. Fred Nicol is managing the blasting for Chicago Explosives. As a former mining explosive engineer, he has seen blasting from all angles. He moved from mining to demolition in the 1980s. His statement about the blast is very simple. "It's unwilling. You could run a train into this and it wouldn't budge."
In addition to the hundreds, if not thousands, meters of steel rerod of varying diameters, within the silos are thick steel beams and below grade is a round, steel vessel, which was meant to contain the nuclear material. Also, stainless steel tanks inside the facility are nearly four stories deep, sunk into the ground. Mr. Nicol said, "Basically, this is an amazing amount of thick steel."
Diane Brown said the structures were all well built and it was obvious that quality workmanship was a focus for the engineers as well as contractors.
While the story of Marble Hill has not been positive to date, that is about to turn around. Since it was never activated and never contaminated, almost all of the materials on site will be recycled. We can all look forward to what the future of the riverside property might bring.
Source: Atlas Copco