Innovative Slide Rail System, Helps with Challenging Excavation Project
---
James McRay, Efficiency Production, Inc.
Special Collaboration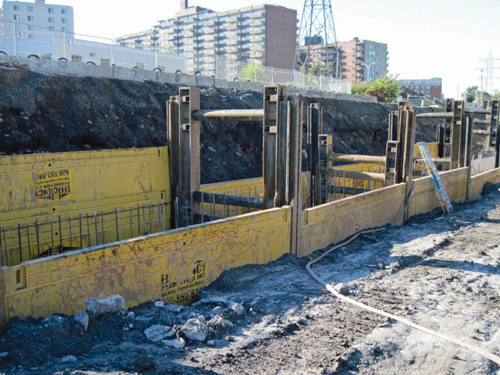 Recently, the city of Montreal began construction on two new high-rise condominium buildings; a 12-story tower adjacent to a 16-story tower. When completed, the new condos will include 400 new mixed-income units, plus commercial business space at street level.
With several phases and various parts of the building project happening concurrently in a relatively congested space, the previously developed site posed many challenges to all the contractors; including limited access for excavation work, poor soil conditions, and a great potential to undermine or damage adjacent structures and roadways.
Interject into that chaos of potential safety issues, a need to install the foundation for one of the exterior walls 6 m below ground level.
The pour-in-place concrete foundation is 2,43 m wide, 50 cm thick and runs more than 180 linear meters. The ability to keep workers safe as they install the foundation is a huge challenge; compounded by the need to not damage, disturb, or undermine adjacent structures such as the parking lot that is less than 1,5 m from the excavation area on one side, and a parking structure a short distance on the other side. And the trench must be maintained and left open for several months.
Given these very challenging parameters, the obstacles for shoring the excavation (supporting the trench walls) becomes almost insurmountable. Yet that was the daunting task faced by Tyron Group, the general contractor based in Terrebonne, Quebec, installing the underground foundation.
Needing some help in finding a viable shoring solution, Tyron's project manager, Stéphane Bélanger, went in to talk with the general construction representative at Hewitt Rentals – a leading CAT Rental Store equipment distributor in Quebec – about potential shoring options. Hewitt's shoring specialist, Roland Frappier, was called in to look at the problem. After a thorough site inspection, he suggested to Mr. Bélanger that an Efficiency Production designed Slide Rail System might be an ideal solution for the difficult site conditions.
Efficiency's Universal Slide Rail System is a component shoring system comprised of steel panels (similar to trench shield sidewalls) and vertical steel posts. Slide Rail is installed simultaneously as the trench or pit is excavated by sliding the panels into integrated rails on the posts–either double or triple rails depending on needed depth – then pushing the panels and posts incrementally down to grade as the pit is dug; a process commonly referred to as a "dig and push" system.
Slide Rail allows the trench to be properly shored throughout the entire installation or removal process, always protecting workers from a trench wall collapse. The versatile system can be used in a variety of configurations, such as small four-sided pits; large unobstructed working pits as big as 15 m x 15 m with Efficiency's ClearSpan™ System; or in a linear Multi-Bay™ configuration to install length of pipe over 12,2 m.
What Hewitt and Efficiency proposed for the Condo Towers project was a custom designed Linear Multi-Bay™ configured Slide Rail System utilizing 4 bays. This allowed them to excavate right next to the parking lot without any fear of damaging or undermining the lot, while still providing access for excavators and other equipment to dig the trench and install the Slide Rail components.
Stéphane Bélanger agreed, and the Slide Rail equipment was delivered. Efficiency Production also assisted by sending up Slide Rail specialist Rod Austin, to help Tyron's crew install the first initial two bays. Mr. Bélanger was very satisfied with the first two bays and he gave the order for the entire job.
The four linear bays utilized 1,2 m and 2,4 m tall, 6 m long panels slid vertically into 31 cm wide, 5,48 m tall linear posts, for a total length of 25,3 m of shored space. The cross-trench support is provided by 1,8 m long spreader pipes pinned to 31 cm wide Efficiency-exclusive Parallel Beams which slide along the inside face of the linear posts; for a total trench width of 2,4 m.
"This is a great system, it's basically saving our butts," asserted Flavio Paolantonio, Tyron's on-site superintendant. "This Multi-Bay system is just ideal for these conditions, both in terms of working in the poor soil, and the limited space."
The successful use of Efficiency's Slide Rail on this project is just the beginning of its potential in Quebec. "It really opens a new market for us, and creates another proven shoring option for contractors in Quebec," added Pierre Pontbriand of Hewitt Rentals. "This is the first time Slide Rail has been used for this type of application, at least in this area, so it really opens up the potential for other contractors to us the system for similar applications," concurs Flavio Paolantonio.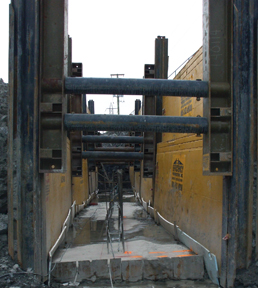 Though this is the first time Tyron has used a Slide Rail System, they are employing some ingenuity in maximizing its usage. "When we install the Slide Rail, we push the parallel beams and spreaders very deep into the trench," explained Mr. Paolantonio, Tyron's on-site superintendant. "That allows for maximum support close to where we are pouring the wall footing, which we pour directly up against the sides of the panels with just some 6 mil plastic in between. When that hardens, it acts like a cross-trench support member so we can pull the spreaders to the top of the posts to provide support and clearance to form up the wall about 6 m," he concluded.
Efficiency's Slide Rail is designed to maximize utilization. After the trench is backfilled over the tapered poured wall – 45 cm at the bottom, 35 cm at the top – three of the four bays can be removed, "leap-frogged" ahead and installed again.
Tyron Group, founded in 1991, specializes in many various sectors of construction including turnkey project, renovations and maintenance, as well as residential development.
Hewitt Rentals Inc., a subsidiary of Hewitt Equipment Limited and Atlantic Tractors & Equipment, manages its stores under the Cat Rental Store banner. The first rental stores were opened in Halifax (1999), Pierrefonds and Montreal East (2000). Today, Hewitt Rentals has more than 25 stores in Quebec and the Maritimes. Hewitt Rentals is the exclusive Distributor of Efficiency Production, Inc. product for Quebec, Nova Scotia, New Brunswick and Prince Edwards Island.
Headquartered in the United States, Efficiency Production, Inc. provides the widest selection of standard and custom trench shielding and shoring systems throughout the U.S. and Canada. Efficiency's versatile products are designed specifically for safe and cost effective installation of utility systems and infrastructure improvement.