Record Raise Boring Technique for 23 Shafts in Hong Kong
---
John Hooper, Joem Promotions on behalf of Sandvik Mining and Construction
Special Collaboration
Four Sandvik SR530 reaming heads will be used by the raise – drilling division of Australia's mining and construction contractor Macmohan – for 23 shafts on the Hong Kong West drainage Tunnel (HKWDT) scheme in Hong Kong's largest raise boring application.
The HKWDT scheme has been designed to alleviate serious flooding from stormwater run off across Hong Kong Islands Mid-Levels and, overall features 32 intake shafts feeding adits and an 11 km drainage tunnel exiting at sea level close to the Cyberport.
Main contractor, the Dragages-Nishimatsu JV (DNJV) appointed Macmohans Raisedrilling Division to use raise boring techniques for 2,4 m and 3,154 m diameter shafts to a variety of depths ranging between 40 – 181 m.
The raise boring method was selected due to the isolated shaft intakes on the hillsides across mid-levels with difficult access and the restricted weight loadings of the adjacent pathways.
It was also considered to be the safest shaft option – with no people required in the shaft during boring – and ensured the least environmental disturbance. The technique will also ensure the fastest construction time over known methods. Raise boring is widely used for shaft excavation on construction and mining projects around the world.
Macmahon will start each shaft with a 35 cm pilot hole using Sandvik Pilot bits and 28,6 cm drill pipes and, together with a number of Macmahon controls, will contribute towards critical hole straightness.
The pilot hole will then be reamed to the final shaft diameter from the tunnel below using a Sandvik SR530 extendable reaming head. This particular head used in the Hong Kong project is a CRH8E which is extendable from Ø 2,4 – 3,5 m by using different types of segments fitted to the base head. The raise boring technique was also felt to be the best option for fast mobilization and penetration rates.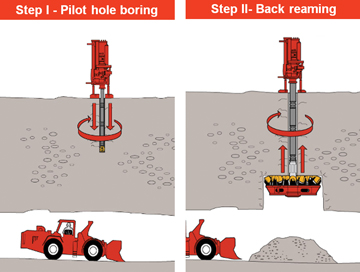 The Hong Kong project features 29 surface shafts; each requiring painstaking preparations, including in some cases, traffic diversions. Since many of the shafts are relatively short, most of the time will be spent setting up, dismantling and relocating to the next location.
The Sandvik SR530 reaming head is considered to be easy to assemble and dismantle, which will help to minimize this essential but unproductive time and has been designed to handle the region's hard, abrasive granites and volcanic tuffs – some of which have compressive strengths greater than 250 MPa.
All Sandvik reaming heads are designed to ensure that optimum thrust can be applied and to operate with smooth rotation to reduce strain on the entire system and ensure energy savings.
The system offers a flat cutting profile, robust segmentation, easy assembly, strong bolted unions, reduced and more effectively placed cutters, standard components and no requirement for special tools.
Sandvik rig for Stubbs Road intake
A compact Sandvik DC300 Series drill rig and tools is being used by the DNJV on the projects Stubbs Road intake, one of a series of shafts using drill and blast techniques.
At the surface an excavation and lateral support chamber has been excavated measuring 6,4 m x 9,4 m to a depth of 30 m. Due to its close proximity of residential towers and schools, it was necessary to use "splitting" techniques when encountering rock down to a depth of 25 m; to eliminate noise and vibration issues before a drill and blast method is adopted.
Drilling approximately 90 holes per blast to a depth of 1,5 m, DNJV is currently not experiencing any drilling problems in the predominantly fractured hard rock - although harder granite is anticipated before reaching the bottom at 30 m.
"The Sandvik DC300 rig is ideal for this type of operation due to its compact build and ease of mobility on the restricted size shaft bottom," said Kenny Chan, Sandvik Hong Kong's sales manager.
Weighing just 5000 kg, the rig is easily lifted out of the shaft following drilling operations allowing removal prior to blasting.
The drill rig is a hydraulic self-propelled drilling unit on a 4-wheel oscillated drive carrier. It drills holes with a maximum recommended diameter of 64 mm and a maximum practical length of 15 m, utilizing 25, 28 or 32 mm extension rods. It is a completely self-contained drilling unit and easily maneuvrable with good rough terrain capabilities. It is also easy to transport between job sites on a truck or on a trailer. With a total length of 5,6 m x 2,6 m high x 2,3 m width the rig offers a very compact footprint making it ideally suited for drill and blast duties on the shaft project.
The rig is equipped with HL 300 hydraulic top hammer rock drill, mounted on an aluminium chain feed. This is attached to an articulated boom giving a drilling coverage of 10 m2.
A 73 hp diesel engine supplies power both for hydraulic pumps and for an on-board compressor.
Drill tools
The DC 300 rig is fitted with Sandvik RT300, 45 mm diameter bits and drill rods.
"DNJV is generally achieving 270 drill meters every two blasts with the drill bits in the hard rock conditions before sending them to Sandvik's workshop for regrinding," said Kenny Chen. "Regrinding will then allow the contractor to achieve a further 200 plus drill meters before regrinding for a third time. Depending on the rock conditions, the DNJV should be able to achieve 5 or 6 regrinds to considerably extend the life of each bit," he added.
At a shaft depth of 28 m, the Sandvik rig is being used for horizontal drilling techniques to excavate the 9,4 m x 7 m high x 5 m wide Stilling Chamber, intended as a temporary works area for "mucking out" of the adit tunnel at the bottom of the shaft.
The DNJV contract includes a total of 32 shafts; with the Stubbs Road shaft being the only one to be excavated using the Sandvik DC 300 rig.