The 2010 Swedish Steel Prize Goes to Van Reenen Steel
This year's international Swedish Steel Prize goes to the South African company Van Reenen Steel Ltd. The company has developed a lighter and more durable body for dump trucks in the mining industry.
The purpose of the Swedish Steel Prize is to provide inspiration and to disseminate knowledge about high strength steel and the potential for developing lighter, safer, and more environmentally sound products – all qualities of the prizewinning solution.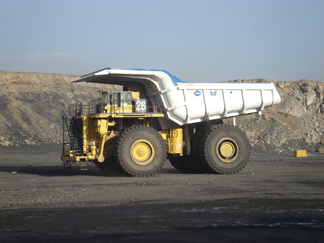 "Van Reenen's solution is very interesting and shows the benefits of high-strength steels," says Martin Lindqvist, chairman of the jury and Business Area manager SSAB.
"Just to be nominated was a great honor, but to be declared the final winner is certainly the highlight of my 25 years in design engineering, and also the most important technical achievement of Van Reenen Steel in the 20 years of its existence. This prize shows that our team of design engineers in South Africa can hold their own with the best in the world," says Bertus Haasbroek, technical manager at Van Reenen Steel.
The new award-winning truck body design features a raised ridge dividing the floor of the truck body down the middle. This design modification offers the clear advantages of less wear and easier unloading. In addition to a stronger and more rigid construction, the vehicle weight was also reduced by 19%. This weight reduction saves fuel, is good for the environment, and allows the vehicle to carry a larger load.
The other nominees received runner-up prizes in the 2010 Swedish Steel Prize competition. They are Blupoint PTY Ltd from Australia, Ruthmann GmbH & Co from Germany, and Wranne Fåhraeus Design AB from Sweden.
Source: SSAB