Volvo CE Receives Additional EPA Tier 4i Certification
for High-Horsepower Engines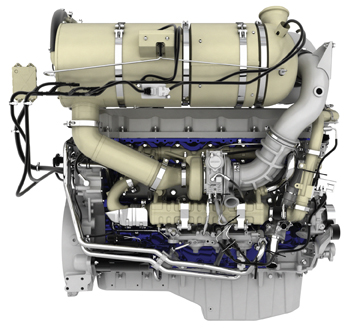 Volvo Construction Equipment has received Tier 4 interim emissions certification from the Environmental Protection Agency (EPA) for its Volvo D13 and Volvo D16 engines. EPA certification for Volvo's D11 engine was received in August, 2010.
Implementation of Tier 4i emissions regulations begins January 1, 2011 for engines in the 175-750 hp range. These regulations require a 90% reduction in diesel particulate matter (PM) and a 50% reduction in nitrogen oxide (NOx).
The EPA-certified Volvo D11, Volvo D13 and Volvo D16 Tier 4i engines with V-ACT (Volvo-Advanced Combustion Technology) are built with ultra high pressure variable fuel injection systems, super efficient cooled exhaust gas recirculation (EGR), precise variable-geometry turbo (VGT) turbocharger controls, a powerful new engine management system (EMS), and an integrated exhaust after-treatment system, equipped with a particulate filter and thermal regenerator.
"Volvo Construction Equipment is meeting the emission requirements of the new standards by continuing to engineer and develop engines of the highest quality and reliability and with the greatest performance and productivity accomplishments on the market today," said John Bartz, director, Product Assurance and Regulation, Volvo Construction Equipment North America.
When fully integrated with the rest of the Volvo powertrain, these engines offer even greater market-leading advantages in construction equipment operations. The results from highly-advanced engineering achievements have been increased combustion efficiency, engine response and performance, power capacity, and the required emissions reductions.
Similar emissions regulations have already been enforced in the on-highway truck sector since 2007 and, as one of the world's largest manufacturers of diesel engines in the 9-18 liter range for both on-road and off-road operation, Volvo has previously developed EPA certified technological solutions for sister companies Volvo Trucks and Volvo Penta. This vast experience – not to mention the millions of hours of real world testing – has proven invaluable in producing off-highway engine systems to comply with the Tier 4i emissions legislation.
At the heart of Volvo's technology is its new generation of electronically controlled diesel engines, using the highly acclaimed V-ACT system with enhanced engine monitoring, greater control capabilities, and higher torque. The EPA-certified engine features exhaust gas recirculation (EGR), which lowers the amount of oxygen in the combustion chamber. This reduces combustion peak temperatures, which lowers the formation of nitrogen oxides (NOx). Ultra-low sulfur fuel, required by Tier 4i regulations, permits the safe and efficient use of a new cooled EGR system, designed to allow more exhaust recirculation than previous generations of engines.
The reduction of particulate matter (PM) from diesel engines is the major target of the EPA Tier 4i regulations. The new Volvo system uses a special filter traps the particulates (black soot from the exhaust) and holds them to be removed by oxidation or what is called "regeneration". Volvo's regeneration system operates while the machine continues work, keeping productivity high.
Source: Volvo CE North America, Inc.