Genie Announces a New Generation of XC Booms
To adapt to today's widespread need to enable people to work at height safely with increasingly heavy loads using a single machine, Genie® Xtra Capacity (XC) boom lifts are designed to work in more applications that require higher capacities. Easy to spot on rental yards and jobsites, the new generation of Genie booms has an "XC" designation in their nomenclature.
"Industry-wide, there is a mix of high- and dual-capacity machines," says Adam Hailey, Genie director of Product Management, Terex AWP. "This can be challenging, particularly when spec'ing a project that requires lifting heavy loads. Responding to customer demand worldwide for higher capacity aerial work platforms, the new generation of Genie XC boom lifts are designed to exceed customers' lift capacity expectations."
All Genie XC booms combine the benefits of a dual-envelope design to provide an unrestricted range of motion with a platform capacity of 300 kg and a restricted operating envelope capacity of 454 kg.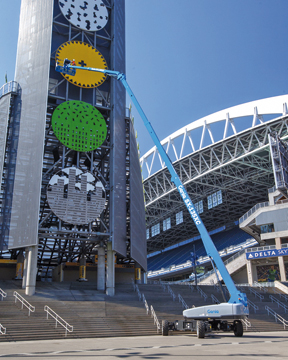 To support additional weight on the platform, Genie XC booms are engineered with an updated boom structure that boasts increased performance, range of motion and envelope control, as well as a robust jib capable of easily handling the standard 454 kg maximum capacity.
"Genie XC booms reduce the number of lift cycles," says Mr. Hailey, "as well as the amount of equipment, operators will need to get tools and materials to work areas at height — doing more with a single unit saves time and increases productivity."
The XC nomenclature also lets rental customers know that this new boom complies with the overload restriction guidelines in the proposed ANSI A92 and CSA B354 industry standards in North America, as well as the current European EN280 and Australian AS 1418.10 standards.
Adam Hailey also notes that the new Genie XC booms share commonality in design, parts and accessories, as well as serviceability benefits, including easy access to crucial service points, with all Genie products.
Source: Terex Corporation