A Preview of Conexpo-Con/Agg 2005
Conexpo-Con/Agg 2005 Largest Ever!
Conexpo-Con/Agg 2005 exhibit space sales have topped a record-breaking 1.85 million net square feet (172 000 net m2), making the 2005 show the largest Conexpo-Con/Agg ever. The co-located IFPE 2005 International Exposition for Power Transmission is also a record-breaker: it is the largest IFPE in the history of the show with more than 110 000 net square feet of exhibit space already reserved (10 200 net m2).
The shows are expected to attract more than 100 000 industry professionals from around the globe. The pace of advance attendee registrations is strong, tracking well ahead of the last Conexpo-Con/Agg, held in 2002, as well as ahead of the advance registration pace of the record-breaking attendance at Conexpo-Con/Agg 1999.
Conexpo-Con/Agg and IFPE will be held March 15-19, 2005 at the Las Vegas Convention Center in Las Vegas, USA and will showcase the latest equipment, services and technologies for the construction, construction materials and power transmission industries.
Show management attributes the very positive numbers to an improved economy over the past year or so, including pent-up demand to replace aging fleets, coupled with the shows' reputation as a global "one stop" source for comparison shopping and purchasing, industry educational programs and networking opportunities.
The last Conexpo-Con/Agg, held in 2002, covered 1 845 808 net square feet of exhibit space (171 400 net m2); and IFPE 2002, a total of 94 635 net square feet of space (8 790 net m2). The shows attracted an audited attendance of more than 108 770.
Conexpo-Con/Agg 2002 earned honors as the largest trade show of any industry that year, (according to Tradeshow Week publication rankings.)
Source: Conexpo-Con/Agg 2005 + IFPE 2005

---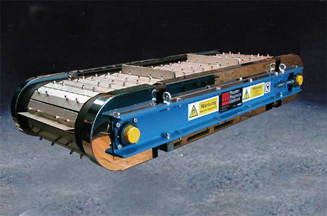 Mastermag SCB Heavy Duty Crossbelt Magnet at Conexpo
The new Mastermag SCB Heavy Duty Magnet is being introduced in North America for the first time, at Conexpo 2005, as an upgraded, long-life permanent crossbelt overhead separator. This magnet system features the exclusive Tri-Polar® Magnetic Circuitry, which corrects inherent problems with all permanent crossbelt magnets ­ that being the magnetizing of steel frames, rollers, and other steel equipment within close proximity to the magnet. This is a result of peripheral magnetic leakage, whereby, the magnetic field "leaks" beyond its intended area. With Mastermag's Tri-Polar® Magnetic Circuitry, the entire magnetic field is directed straight down onto the conveyor; over the material being processed and especially the tramp iron to be removed. As a result, this concentrated magnetic field makes the magnet 30% more powerful than equivalent conventional permanent magnets of equal size, and also makes it equal or stronger to electro magnets in many applications.
Source: Global Equipment Mktg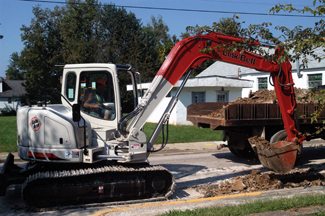 Introducing the Link-Belt 80 Spin Ace Swing Boom Excavator
Confined space and restricted access don't necessarily mean limited productivity with the new Link-Belt 80 Spin Ace minimum swing radius excavator. This addition to the Spin Ace family of excavators opens opportunities for working within tight spaces while increasing the ability to maneuver safely and productively with its boom that has a swing radius of 130 degrees. With an operating weight of 18,400 lbs. and a tail swing of merely 5'4", operators have the capability to utilize full power in areas that might have been relegated to smaller, less powerful machines in the past.
The 80 Spin Ace undercarriage features heavy-duty excavator style components to improve stability and ground bearing pressure. The X-style carbody is integrally welded for maximum strength and durability. A two-speed variable displacement axial piston travel motor has a maximum speed of 3 mph, traction force of 13,040 lbs, and gradeability of 70%, giving the 80 Spin Ace the torque needed when hauling up grades or making turns.
Source: LBX Company, LLC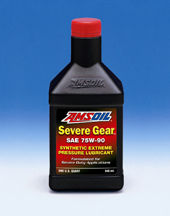 Severe Gear Synthetic Extreme Pressure Gear Lubes
Amsoil Inc. has updated its gear lube formulations in order to optimize its gear lubes for modern applications. Severe Gear Synthetic Extreme Pressure Gear Lubes, available in 75W-90 and 75W-140 viscosities, are ideally suited for vehicles that experience towing, hauling, steep hill driving, commercial use, racing, off-road use, rapid acceleration, stop and go driving and high ambient temperatures.
Modern vehicles are designed with more horsepower and torque than in years past, allowing them to haul and tow heavier loads. The result is higher gear loading and hotter running differentials. In addition, factors such as increased interior space and lower floor boards push axles higher into the vehicle's body, reducing air flow and increasing heat buildup. The closer proximity of the axles to the exhaust system also effectively raises temps, while more aerodynamic body styles and air dams restrict air flow to the differentials.
Severe Gear Synthetic EP Gear Lubes deliver unbeatable power-enhancing protection, thermal stability and fuel economy in both heavy-duty and severe service operations. Amsoil Severe Gear has the film strength required to deliver all the protection high stress applications need in a fuel-saving viscosity grade at a competitive price. It is recommended for use in all passenger vehicles, light trucks, 4x4 offroad differentials, SUVs, commercial trucks, heavy equipment differentials, medium duty trucks and buses, and race vehicles.
Source: Amsoil inc.
Web Tool to Estimate Construction Costs for Firestopping installation
Grace Construction Products introduces FlameSafe® Smart System Selector & Estimator (SSS&E), a web-based tool for firestopping contractors designed to provide the best system option and most cost-efficient design for commercial firestopping installations.
FlameSafe SSS&E allows firestopping contractors to input individualized field conditions and to locate tested Grace firestop systems that are applicable. The web-based program sorts results in order of installed costs (material and labor) and allows users to save results into a project summary report. To better determine project quotes, users can save their actual material costs and labor rate in a confidential project profile.
Grace Construction Products has generated hundreds of firestop systems through Underwriters and Omega Point Laboratory testing. "We developed FlameSafe® Smart System Selector & Estimator to assist building industry professionals in quickly choosing the best firestopping solution without flipping through a book," said Phil Zanghi, fire protection Product Manager for Grace Construction Products. "This web-tool is an invaluable asset to firestopping contractors. It allows them to quickly and easily obtain a detailed summary of which FlameSafe products to use for their project, which tested system is best for their firestopping condition, and what the total estimated cost will be."
FlameSafe SSS&E prompts users to enter information about through-penetration, joint and perimeter barrier firestopping conditions. Information entry is made easy with drop down menus and selection buttons. The user can specify preferred product types (i.e., sealant, putty, etc.) as search criteria. Applicable firestopping systems are selected by the SSS&E from Grace's library of tested systems, and sorted by cost. FlameSafe SSS&E is updated regularly to include the latest tested systems and modifications to existing systems. If a tested system is not available for a specific condition, the user is provided with contact information for technical support to help provide a solution.
Each project has a report with all the tested systems and costs associated with firestopping. Linear feet for joints and quantities of penetrants can be entered and included in the report. Data sheets and firestopping systems may be printed from the SSS&E to include in a submittal package.
Source: Grace Construction Products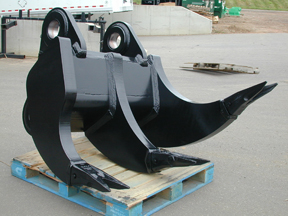 Leading Edge Attachments, Inc. At Conexpo!
Leading Edge Attachments, Inc. will be present at the Conexpo show with the Caterpillar 320 model excavator versions of the award winning SHARC (Shanks on an ARC) Multi-Ripper and the very popular Multi-Ripper Bucket. The WagMann Wedgelock pin-grabber Quick Coupler will also be on display.
The MR and MRB have been selling very well across the country because users are finding out that these products break rock up to four times faster than a hammer, and rip up to 10 times faster than a single pointed ripper. The MRB exceeds all other designs of frost, rock or ripper buckets on the market. These products work so well because the patent pending technology features short staggered shanks that hit one at a time to provide maximum breakout force sequentially to each tooth. Generated tooth force is as much as eight times that of the standard 5 tooth bucket. The constant tip radius leaves a relatively flat bottom in the trench, plus has the ability to rip the sides of the trench easily.
The MR and MRB have won several awards and have several US and foreign patents pending. The MR is also licensed to Wedgelock Ltd. in New Zealand for production and distribution there and Australia. The products are constructed out of AR400 steel, use standard replacement teeth, and are available for any excavator or tractor-loader-backhoe above 6 000 pounds.
Source: Leading Edge Attachments, Inc.
Case B Series Compact Excavators Have Increased Power and Speed With Tier 2 Upgrade
Case has upgraded four of its CX Compact Excavators to be Tier 2 certified, increasing horsepower, hydraulic pressure and hydraulic flow at the same time.
The upgraded Case CX27B, CX31B, CX36B and CX50B Compact Excavators now feature an overall 19% increase in engine horsepower, 15% increase in hydraulic flow and 14% increase in hydraulic horsepower.
"This is power the contractor can put to work on the job," said David Wolf, Marketing Manager, Case Construction Equipment. "While upgrading these CX Excavators to Tier 2 certification, we've also improved performance and productivity, with faster cycle times."
"At the same time, we made the machines easier to maintain and service, with swing-out access panels and ground-line fluid fills," he said.
All models are equipped with a hydraulically controlled backfill blade for added machine stability and light dozing work. The newly designed backfill blade boils material in front of the blade, allowing for efficient backfilling. In addition, increased lift work range on the backfill blade improves trailer loading.
The Case CX27B, CX31B, CX36B and CX50B models range from 2 570 to 4 710 kg and deliver from 21,3 to 40,8 net horsepower. The new models provide bucket digging forces up to 3 600 kg and maximum dig depths from 9 feet 2 inches (2,79 m) to 11 feet 9 inches (3,59 m).
The upgraded models continue to offer zero tail swing and a center-swing boom for maximum productivity in tight working spaces.
Case also offers a 1.4 metric ton compact excavator, the CX14, as well as a full range of mid-sized and standard excavators.
Source: Case CE
A "Trip to the dentist" at Conexpo
Few people look forward to a trip to the dentist, but this years's Conexpo attendees should enjoy the "tongue-in-cheek" dentist's office, which will be part of CE Attachments, Inc. display at the show.
CE Attachments, Inc., a Wisconsin-based supplier of attachments for compact equipment, will be recreating a scene from their latest award-winning ad campaign depicting a dentist gone mad. In the ad, the "dentist" is shown attempting to use an auger attachment to drill on a frightened patient illustrating the ad's theme, "Right Attachment, Wrong Job."
According to company spokesperson Sarah Benowski, "We're planning on having a lot of fun with our dentist theme at Conexpo this year. We'll have a real dentist manning a real dentist's chair and attendees can stop for a "checkup" and have photos taken in the chair. We're sure it will be the most unusual display at the show.
Source: CE Attachments, Inc.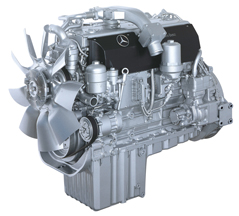 DaimlerChrysler Off-Highway solidifies presence in North America with the formation of MTU Detroit Diesel
MTU Friedrichshafen and Detroit Diesel Corporation announced the formation of a new division for Off-Highway engine activities, MTU Detroit Diesel. The group will continue to be headquartered in Detroit, Michigan. MTU Detroit Diesel will be a separate division of Detroit Diesel Corporation and will be an integral part of DaimlerChrysler Off-Highway.
MTU Detroit Diesel will have responsibility for the application engineering, manufacturing, sale and service for off-highway engine products in marine, construction, industrial, power generation, petroleum and defense markets in the United States, Canada and Mexico.
MTU Detroit Diesel was formed through a longstanding partnership between MTU Friedrichshafen GmbH and Detroit Diesel Corporation dating back to 1994. Through DaimlerChrysler's acquisition of Detroit Diesel, the partnership has expanded under DaimlerChrysler's Off-Highway division and includes the off-highway activities of DaimlerChrysler's Commercial Vehicle Division and its VM Motori SA subsidiary.
Source: MTU Detroit Diesel
Cummins to Reveal Next-Generation QSB at Conexpo
Cummins Inc. announced that they will be showing the next-generation QSB engines for the first time at Conexpo-Con/Agg 2005. These engines feature major enhancements for improved performance, durability and reduced noise as well as meeting the Environmental Protection Agency's (EPA) Tier 3 emissions requirements.
These four- and six-cylinder engines will be rated from 110­275 hp (82­205 kW) and were developed specifically to meet the durability, reliability and power density requirements of premium applications such as excavators, materials handling equipment and cranes where high performance is essential. High-rated versions will be available as early as June 2005; a full six months ahead of the regulations. The six cylinder includes an up to18% torque increase, and the four cylinder an 18% hp increase. Both feature an over 55% reduction in sound pressure.
Source: Cummins Inc.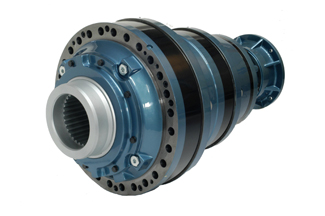 Brevini Riduttori will showcase its planetary gearboxes
Brevini Riduttori S.p.A. ­ which was established in 1960 in Reggio Emilia, where its headquarters are still located ­ is one of the European leaders in the field of power transmissions. With its Brevini and PIV brands it offers a variety of products that range from high-tech planetary gear unit solutions to parallel and right-angle gear units and speed variators.
In over forty years of steady growth, Brevini Riduttori has consolidated its position on the international market, where it now has six production units and 28 subsidiaries in Europe, the Americas, and Asia Pacific.
Source: Brevini Rudittori S.p.A.
Bonfiglioli Trasmital at Conexpo-Con/Agg
Bonfiglioli, based in Bologna (Italy), produces a range of hydraulically-driven planetary gear units which can be adapted to suit every type of machine. Bonfiglioli is an internationally renowned supplier to the construction machinery industry.
It will showcase, among others, its 610W2/3 series final drive units. This gear shift final drive is specifically designed for wheeled and tracked machines featuring a significantly different travel/operating speed ratio.
The product is the ideal solution for road paving machines, construction equipment, as well as agricultural and forestry machines.
Source: Bonfiglioli Transmital