33 Hour Record Concrete Pour in Dubai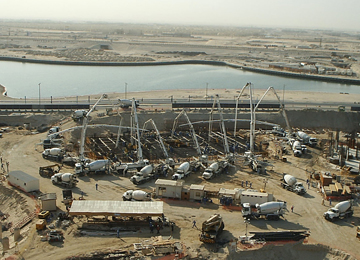 The exclusive Jumeirah Beach Residence off the Sheikh Zayed Road, in Marsa in Dubai, was recently thought to be the scene of the largest single continuous concrete pour in the United Arab Emirates.
Ten Schwing concrete pumps (eight S 42 SX and two KVM 52) have been used to pour a 10 000 m3 foundation raft slab by Ready Mix Beton on the exclusive Jumeirah Beach Residence project in Dubai. Taking 33 hours to complete, the continuous pour was thought to be a record for the United Arab Emirates. Seven batching plants were used to supply a very special grade 50 concrete for the pour containing 65% Slag (GGBS) and 35% Cement (OPC) and W/C ratio of 0.37 ­ five working full time with two on standby duties in the event of a breakdown. Four of the plants were located in Jumeirah Beach Residence site production facility close to the Sheik Zayed Expressway a distance of almost 1 km, with additional standby plants in Al Quoz Industrial Area a distance of almost 15 km.
Ready Mix Beton batched concrete with ice and chilled water such that the fresh concrete temperature was 27°C or less. More than 1 100 t of ice were used, in order to control further the temperature due to hydration, which were provided by four ice plants, throughout the pour, to combat the high ambient daytime temperature of 45°C. The continuous pour for the raft slab was extremely successful and completed in full to the project specifications for the client Tecom, the project manager Mace International and the main contractor Al Habtoor Engineering.
Raft foundation ­ Jumeirah Beach Residence Sector 4, Tower C02-C08
According to Hashim Al Dabal, CEO of Estitmar Reality, the developer of Jumeirah Beach Residence, "The project is very high profile and we wanted to ensure we got the very best people and machines to execute it. In this way we can guarantee top quality."
The contractors that have been selected are all top of their class with tremendous track records of executing many of the world class projects throughout Dubai."
That contractors of this calibre need to rely on dependable machinery for such high-profile jobs as Jumeirah Beach Residence is a clear sign of the confidence they place in Schwing concrete pumps.
Jumeirah Beach Residence Project
In total, the Jumeirah Beach Residence project will feature 36 residential towers, some reaching 54 storeys, plus four hotel towers and beach clubs over a length of 1.7 km, much of it waterfront development.
The quantity of concrete contracted to Ready Mix Beton is 50% of the total. The project has been split into seven sectors, each one being awarded to a separate main contractor and consultant.
In order to speed up construction, some contractors have combined the rafts of twin towers to be cast in one continuous operation. This resulted in a total of 14 raft foundations which were cast during the months of June, July and August 2004. The thickness of the rafts ranged from 2.8 m to 4.0 m in certain locations.
Various combinations of Schwing pumps undertook all the continuous raft slabs pours.
Source: Schwing GmbH