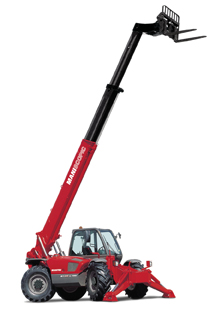 Manitou Launches its MT 14 Range
Already familiar in thousands of construction sites throughout the world and regarded by many professionals as THE benchmark, the range of Manitou 13 m telescopic handlers is evolving. From the beginning of 2006, the Maniscopic MT 13 range will be replaced by the MT 14 range, offering better lifting performance and an ergonomic design which is adapted to meet the needs of the construction industry.
"More muscle" for improved lifting performance
To meet the demands of users in the building industry, the three MT 14 models will benefit from improvements in their loading curves, and will be able to extend a pallet to 9,50 m in front of their wheels. The MT 14 will be offered in 3000 to 4000 kg capacities.
From now on, the double cross-gate lever already fitted to 10 m models will be fitted as standard on the new MT 14 models. Whether handling using forks or bucket loading, the operator controls all movements using only one hand, resulting in improved productivity and safety.
Naturally, the MT 14 retains all the advantages and performance levels that made the MT 13 outstanding in its field.
The location of the engine on the right hand side, the steeply inclined lockable engine cover and the extremely low anchorage point for the telescopic arm all result in an exceptional field of vision.
The cab has been designed to offer a large working volume and complete safety. The thermoformed interior trim contributes to improved soundproofing of the driving position, thus reducing operator fatigue under conditions of intensive operation.
In addition to the 3 standard steering modes (2 wheels, 4 wheels, crab steering) the low rear overhang of the MT 14s makes for ease of manoeuvre on even the most crowded sites.
The MT 14s are equipped with wide or narrow stabilizers. These safety devices are controlled from the cab to provide improved performance on irregular ground surfaces. Loads can be placed in complete safety, even in the most cramped spaces.
Source: Manitou