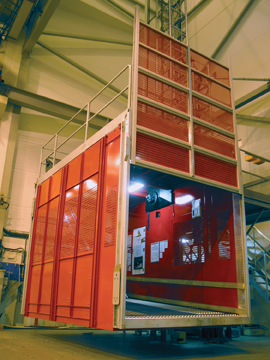 Introducing Extra Large Hoist Cars for the Alimak 650
With the introduction of the fully modular Alimak Scando 650 construction hoist at bauma 2004, and the high-speed model in 2007, Alimak Hek set a new industry standard for improved performance, durability and intelligent control.
The new Alimak Scando 650 FC-XL features internal car lengths up to 5 m, a width of 2 m and heights up to 2,8 m, it surpasses all existing standard construction hoists on the world market operating on a single mast.
The Alimak Scando 650 FC-XL eases transportation of long facade elements or other bulky materials in the hoist car. By using a lift truck or a board transit bench the loading and unloading of bulky materials can be done easy and ergonomically.
Source: Alimak Hek