Un aperçu de bauma 2010


Ritchie Bros. Auctioneers annonce la signature de la location à long terme, d'un terrain de 16 ha à Meppen, en Allemagne. La société internationale de ventes aux enchères projette de commencer la construction d'un nouveau site de ventes en décembre, avec pour objectif de terminer à la mi-2010. Ceci constituera le sixième site de vente de l'entreprise en Europe.
Depuis 2004, Ritchie Bros. a organisé des ventes de matériels agricoles à Meppen en collaboration avec Agravis, un concessionnaire de matériels agricoles et prestataire de services. Au cours d'une récente vente à Meppen, le 19 novembre 2009, une sélection de 640 tracteurs, de camions et d'autres matériels agricoles ont été vendus à une foule de plus de 850 d'enchérisseurs enregistrés.
«Ritchie Bros. attire toujours plus de clients et vend plus de matériels pendant ses ventes sans réserve dans le monde,» déclare Guylain Turgeon, directeur général adjoint et directeur général Europe, Moyen Orient et Asie. «Même si nous pénétrons avec succès sur de nouveaux marchés, comme celui de l'Inde et de la Turquie, l'Europe est une région que nous continuons de développer. Tous les jours, nous poursuivons l'expansion de notre réseau européen, réussissant ainsi à atteindre de nouveaux clients. Le fait d'avoir un nouveau site de vente aux enchères en Allemagne va nous permettre de continuer d'offrir des ventes avec un standard élevé, des prestations complètes que nos clients vendeurs et acheteurs apprécient tant.»
---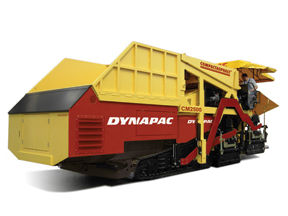 Le nouveau Compactasphalt® 2500 de Dynapac fournit des solutions rentables pour assurer 2 couches d'enrobés en un seul et unique passage. Conçu pour être utilisé avec la finisseuse DF145CS de Dynapac, le modèle CM2500 est, grâce à sa largeur de 2,55 m, idéal pour appliquer la méthode Compactasphalt® sur des autoroutes et voies rapides sur une largeur pouvant aller jusqu'à 7,5 m.
Étant donné que le Compactasphalt® 2500 effectue simultanément les couches d'usure et de liant (chaud sur chaud) en un seul passage, il en résulte un meilleur accrochage des couches qui en accroît la durabilité. De plus, la chaleur résiduelle de la couche de liant à chaud accroît considérablement le délai pour le compactage final.
---
La nouvelle gamme de machines de compression PILOT 4 de CONTROLS, comporte la technologie ES (Économie d'énergie) qui assure : précision (avec son asservissement à boucle fermée), haute productivité (grâce à la pompe bi-étagée) et économie d'énergie (grâce à la pompe à flux variable).
La machine de compression peut être livrée avec une large gamme d'accessoires optionnels permettant essais sur ciment, de traction indirecte sur cylindres, cubes ou pavés.
---
Le crible SC de Sandvik est un crible incliné à mouvement circulaire. Grâce à une conception modulaire de ses claies, combinée à d'autres caractéristiques associées, le nouveau crible SC offre une très grande souplesse d'utilisation et une possibilité de mise en œuvre dans de nombreuses applications de criblage, avec des temps d'arrêt minimum et, plus important encore, sans avoir à entreprendre de modifications onéreuses.
Le crible SC sera dévoilé à l'occasion du salon bauma 2010, et son design révolutionnaire, avec ses développements résolument centrés sur l'utilisateur, lui ont d'ores et déjà valu d'être nominé pour le prix de l'innovation bauma.
---
Les systèmes de pesage pour chargeurs sur roues de la série p élargissent la gamme de produits proposés par Pfreundt. Les affichages électroniques modernes pSmart et pControl sont plus compacts et offrent un nouveau concept de commande ergonomique.
Le pSmart dispose de toutes les fonctions de base et son utilisation est simple puisque le dispositif de pesage dirige l'utilisateur grâce à des symboles clairs.
Le pControl est équipé d'un bouton-poussoir rotatif. Les possibilités de saisies intelligentes et les réglages individuels permettent donc une commande rapide et simple. Le nouvel écran en couleur du pControl peut être utilisé en option comme moniteur pour une caméra de recul, économisant ainsi de l'espace et augmentant la sécurité.
L'intelligence de pesage de la série p se situe dans une nouvelle unité de fonction la pBase qui permet d'effectuer les mesures de pression hydraulique et d'inclinaison, le calcul du poids et la sauvegarde des données de pesage dans la mémoire alibi. Le CAN-bus communique avec la pBase grâce aux affichages pSmart ou pControl et peut être aligné avec ceux-ci.
---
ALLU présentera sa gamme complète de séries D pour criblage très fin, broyage, mélange, stabilisation et tri.
La stabilisation de masse a été développée en Finlande pendant les années 90. C'est une méthode qui permet de renforcer des sols meubles et de solidifier les boues de dragage. De plus, cette méthode peut aussi être utilisée pour le traitement de matériaux pollués, par encapsulage des polluants in situ et prévenir ainsi une contamination des zones périphériques.
Le ALLU PFM est l'unité de stockage de liant composée de 2 silos de 10 m3. Il est monté sur un châssis à chenilles pour permettre un transport aisé, gage d'économie pour l'utilisateur.
---
«Des camions sur lesquels vous pouvez compter» telle est la devise des gens de Mercedes-Benz. Le stand de 1000 m2 présentera des camions conçus pour tous les secteurs de la construction, notamment le nouveau Zetros.
Le premier Zetros pour utilisation civile a été livré à une entreprise finlandaise active dans le domaine de l'énergie.
Les applications typiques de ce camion à traction intégrale 4x4 ou 6x6, sont dans les industries de la forêt et de l'énergie, la lutte aux incendies et les secours en zone sinistrée, ainsi que dans les endroits reculés. Des entrepreneurs en construction et des compagnies minières ont également exprimé leur intérêt dans le Zetros.
Mercedes-Benz fournit le Zetros avec un rouage intégral composé d'un boîtier de transfert doté d'un ratio 1:1.69 pour utilisation hors-route et du blocage du différentiel sur chacun des essieux. La charge utile est de 4 ou 6 t et la masse totale du véhicule est de 16 ou 18 t.
---
Depuis son lancement officiel à bauma 2007, PERI a ajouté plusieurs caractéristiques à son VARIOKIT. Des solutions sont désormais disponibles pour pratiquement toutes les applications de construction de tunnels ou de ponts de béton.
Parmi les produits-vedettes à bauma, la tour VARIOKIT, constituée d'éléments du système VARIOKIT, conçue pour des charges de 240 t par colonne et des hauteurs atteignant 40 m.
---
Godwin Pumps célèbre 40 ans de production de sa gamme de pompes Dri-Prime® à amorçage automatique. Ce qui a débuté par un simple système d'amorçage pneumatique à venturi – populaire parce qu'il ne comporte aucune pièce mobile et requiert très peu d'entretien – est demeuré à l'avant-garde de l'industrie.
Les pompes Dri-Prime sont capables de début atteignant 3066 m3/h, des hauteurs de charge de 188 m, et l'ingestion de solides atteignant 125 mm de diamètre.
---
ZF présentera pour la première fois une transmission à variation continue pour machinerie de construction – la cPower – qui marque le début d'une nouvelle ère technologique.
Profitant de la longue expérience de ZF avec les machineries agricoles, la cPower permettra d'atteindre les objectifs de réduction de consommation et d'émissions de CO2.
---
JCB dévoile le plus petit de ses télescopiques, le JCB 515-40. Sa conception innovante lui confère une hauteur de cabine de 1,80 m et une longueur de 2,97 m pour un poids inférieur à 3,5 t.
Au cœur du JCB 515-40 se trouve son châssis innovant breveté. Afin d'atteindre une hauteur hors tout minimale, JCB a délaissé les conceptions classiques pour développer son propre châssis monopoutre décentré exclusif laissant la cabine occuper tout l'espace ainsi gagné.
---
Le groupe FAYAT sera présent et vous attend avec ses filiales de la division Matériel Routier qui présenteront une gamme très importante de matériels regroupés thématiquement selon le Cycle de vie de la route.
Sous le thème «Think 5E!», le groupe FAYAT distingue 5 axes directeurs principaux :
Le retour aux fondamentaux, et/ou la recherche en premier lieu de principes de base, ce qu'il qualifie d'ESSENTIEL. Ces machines comportent tous les éléments techniques nécessaires à la fonction.
L'ERGONOMIE, la recherche de plus de confort pour l'utilisateur, des règles d'hygiène et de sécurité avancées, sont des avantages déterminants notamment dans les marchés matures.
L'ÉCOLOGIE, le respect de l'environnement, la diminution des émissions de toute nature (sonores, de gaz, etc.) constitue une motivation profonde, variable selon les pays, mais inéluctable et incontournable.
La recherche de solutions ÉCONOMIQUES, crise oblige, est aussi un paramètre structurant du comportement des décideurs, mais toujours en liaison avec l'un des autres paramètres.
Plus qu'innovation FAYAT pense aujourd'hui ÉVOLUTION. Les machines sont adaptées à leur temps et doivent évoluer avec la demande technique, avec les dispositifs disponibles et ce pour une longue période, au moins égale à leur durée de vie.
C'est pour ces raisons que nous avons sélectionné parmi tous les équipements exposés, une liste courte de produits innovants et/ou exposés en première mondiale, conforme à ces standards.
---
Perkins Engines présentera sa gamme complète de moteurs satisfaisant aux normes Tier 4 Interim / Stage IIIB.
Les moteurs compacts, 4 cylindres de 3,4 l, de la Série 854 seront présentés à bauma en première mondiale. La nouvelle Série 854 poursuit sur la force et l'habileté de Perkins à ajuster ses solutions de puissance aux besoins individuels de sa clientèle. Le nouveau modèle de Perkins offrira aux clients une plus grande densité de puissance et des dimensions réduites selon leurs exigences, peu importe l'application.
Avec une plus grande puissance et de couple et un encombrement réduit, les clients pourront désormais évoluer dans la gamme de puissance puisque le 854E développe de 60 hp à 115 hp.
---
Avec le BOMAG BW 332, un compacteur monocylindre de 32 t – le plus lourd du monde –, l'entreprise ouvre de nouvelles perspectives dans le secteur du compactage des sols.
Ce concept, présenté pour la première fois sous la forme d'une étude lors de bauma 2007, a suscité un tel engouement que BOMAG l'a développé au point de pouvoir, aujourd'hui, le produire en série.
---
Les manufacturiers utilisant de l'acier résistant à l'abrasion pour produire de la machinerie lourde sont constamment à la recherche de composantes en acier léger offrant une vie utile plus longue et des remplacements moins fréquents. Puisqu'ils permettent d'atteindre des réduction de poids, la demande pour les aciers spécialisés est en pleine croissance.
Duferco Clabecq comble ce besoin avec «Quard», son nouvel acier résistant à l'abrasion. Minces et larges, ses plaques innovent par leur constance – pour le façonnage, le fini de leur surface et leur planéité.
---
La première édition du manuel de soudage SSAB a connu un tel succès que plusieurs rééditions ont été nécessaires pour satisfaire la demande.
Entre-temps, il s'est passé pas mal de choses dans le domaine des matériaux, y compris le lancement de nouveaux types d'acier. SSAB a donc saisi l'occasion pour revoir et compléter ce manuel.
---
Merlo lance à bauma son plus petit chariot télescopique ultra compact, le Panoramic P25.6 et son plus grand télescopique rotatif jamais construit, le MCSS 60.24.
Autre développement produit chez Merlo, réalisé à la demande de l'importateur canadien, le chariot télescopique P50.18 a été conçu pour concurrencer les modèles américains mais en préservant les standards de qualité européenne. Il offre une capacité de levage de 5,5 t à 18 m de hauteur.
A preview of bauma 2010


Ritchie Bros. Auctioneers (NYSE and TSX: RBA), the world's largest industrial auctioneer, has announced it signed a long-term lease on approximately 16 hectares (41 acres) of land in Meppen, Germany. The global auction firm intends to begin construction of a new auction site there in December, with plans to complete construction by mid-2010. This will be the Company's sixth auction site in Europe.
Since 2004, Ritchie Bros. has been conducting agricultural equipment auctions in Meppen in cooperation with Agravis, an agricultural equipment dealer and service facility. At a recent auction in Meppen on November 19, 2009, a selection of 640 tractors, trucks and other agricultural equipment items were sold to a crowd of more than 850 registered bidders.
"Ritchie Bros. is attracting more people and selling more equipment at its unreserved auctions around the world," said Guylain Turgeon, Senior Vice President and Managing Director Europe, Middle East and Asia. "Even as we are successfully entering new markets, such as India and Turkey, Europe is a region we continue to develop. Every day we're expanding our European network, reaching out to new customers. Having a new auction facility in Germany enables us to continue to offer the high standard, full-service auctions our selling and buying customers appreciate so much."
---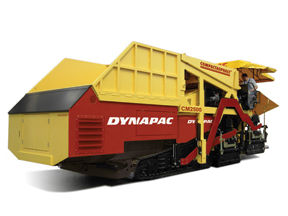 Dynapac's new Compactasphalt® 2500 provides cost-effective solutions for placing 2 layers of asphalt in one single pass. Designed to be used with Dynapac's DF145CS paver, the CM2500 module's 2,55 m width is ideal for applying the Compactasphalt® method on highways as well as motorways up to 7,5 m wide.
Because the Compactasphalt® 2500 simultaneously places both the wearing and binder courses – hot on hot – in a single pass, the result is a better interlocking of the courses that increases the durability of the layers. Furthermore, the residual heat of the hot binder course significantly increases the time available for final compaction.
---
The new range of CONTROLS PILOT 4 compression machines include ES Technology (Energy Saving) which allows accuracy thanks to automatic closed loop control, high productivity thanks to double stage pump and energy saving thanks to variable flow pump.
The compression machine can be furnished with a wide range of optional accessories allowing tests on cement samples, indirect tensile tests on cubes, cylinders and pavers.
---
The new Sandvik SC screen is an inclined screen with circular motion. Thanks to the modular deck design, combined with other associated features, the new SC screen provides customers with maximum flexibility of use, together with the ability to utilize the screen in a variety of classification applications with minimum downtime, and vitally, without costly modifications.
The SC screen will be unveiled at bauma 2010, and its revolutionary nature combined with customer-focused developments has resulted in its nomination for a Bauma innovation award.
---
The new p-series wheel loader scales extend the Pfreundt range, adding to the WK50 series models that have been tested and proven in over 10 000 applications. The modern pSmart and pControl electronic displays are more compact and offer a new, ergonomic user concept.
pSmart is a simple display and control unit with all the basic technical weighing functions for calibrated applications. It is easy to use since the scale guides the user with clear symbols and no text instructions are required.
pControl is fitted with a functional jog dial. Augmented by intelligent input aids and options for individual settings, operation is quick and easy. The new colour display of the pControl is also optimal as a monitor for a reversing camera – saving space and increasing safety.
The weighing intelligence of the p-series is located in the pBase – a new functional unit. Hydraulic pressure and tilt are measured here and weight is calculated and weighing data stored in the alibi memory. pBase communicates with the pSmart or pControl displays via CAN bus and can be calibrated via these.
The new p-series can naturally also be cost-effectively retrofitted to other wheel loaders and the complete display module, the printer and even the new pressure sensor are replaceable within a calibration period if necessary – without recalibration.
---
ALLU will showcase its complete D-series product range offers a complete solution of material processing from fine screening to crushing and blending as well as for soil remediation and stabilisation.
Mass stabilisation was developed during the 90's, in Finland. It is a method for strengthening soft soils and sludge. In addition to this it can also be used for processing contaminated material by encapsulating the contaminated soil in situ and thus preventing the contaminant from spreading into the surrounding area. Currently the most popular use of mass stabilisation technology is road construction projects and harbours, however more recently many clients globally are exploring the technique for processing difficult to handle sludge's', as an alternative to more expensive methods currently being used.
The new ALLU PFM (Pressure Feeder Mobile) for feeding dry binders is mounted on a trailer that enables the easy transportation from one place to another. For the customer this means lower mobilisation costs at job sites and enables cost-effective stabilisation projects also on smaller job sites.
---
"Trucks you can trust" is the motto for the Mercedes-Benz stand – stretching over a good 1000 m2 at the bauma 2010. The motto applies both to the highly reliable, economical and durable technology for which Mercedes-Benz is renowned and the comprehensive support offered to customers in all truck matters.
Back in December 2009 Mercedes-Benz delivered the first Zetros for civilian use – to a Finnish company in the energy industry. Wherever a compact profile, high payload and excellent off-road capability are called for the new Zetros cab-behind-engine vehicle – which can be described as a continuation of the Unimog for higher gross vehicle weights – is met with enormous interest.
Typical areas of application for this all-wheel-drive truck with 4 x 4 and 6 x 6 axle configurations are forestry and the energy industry, fire protection and disaster control, service in remote areas and expedition activities. Companies involved in the construction industry and surface and underground mining are also showing a keen interest.
Mercedes-Benz supplies the Zetros with permanent all-wheel drive and a two-stage transfer case with an off-road ratio of 1:1.69 and differential locks on all axles. The two-axle version's payload ranges from 4 to 6 t and there is a choice of two gross vehicle weights: 16 or 18 t, for which the model designation 1833 stands.
---
Since being officially launched at bauma 2007, PERI's VARIOKIT engineering construction kit has been complemented by a number of new features. Solutions are now available for virtually all applications in tunnel and concrete bridge construction.
A further highlight at this year´s bauma is the presentation of the new VARIOKIT heavy-duty tower, consisting of VARIOKIT system components, and has been designed to carry high loads of 240 t per tower from heights of up to 40 m. With this, a system is now available which also takes into account the high requirements of heavy-duty shoring construction.
---
Godwin Pumps is celebrating 40 years of production of its Dri-Prime® fully automatic priming pump line. What began as a simplistic venturi air priming system – popular because it had no moving parts and required very little maintenance – has remained at the forefront of the pumping industry through engineering expertise and market-leading performance.
The Dri-Prime pump is an automatic priming centrifugal pump capable of flows to 3066 m3/h, heads to 188 m, and solids-handling to 125 mm in diameter. Available in sizes from 50 mm to 600 mm, the Dri-Prime line provides suction lift capability to 8.5 m and continuous uninterrupted operation, even during intermittent dry suction conditions. In addition, its dry running, double high-pressure oil bath mechanical seal with abrasion resistant solid silicon carbide faces enables the pump to run indefinitely without the risk of overheating or failure.
---
For the first time, ZF will be presenting a continuously variable transmission for construction machinery – ZF cPOWER – which is sure to set a new trend.
The fully powersplit, continuously variable technology benefits from the long-term experience gained on the agricultural machinery sector and offers significant consumption benefits and productivity increases for the vehicle owner. In short – the perfect solution for any application.
---
The smallest ever Loadall telescopic handler model ever produced by JCB is to be launched as the result of a design innovation which has reduced the machine height to less than 2 m.
The new 515-40 model is 1,8 m high, 2,97 m long and weighs less than 3.5 t. Delivering powerful performance despite these compact dimensions, the machine will bring the benefits of JCB's market-leading Loadall range to previously inaccessible construction and industrial applications.
At the heart of the JCB 515-40 is an innovative, patented chassis design. To achieve the lowest possible working height, JCB has challenged conventional design concepts to develop this unique, off-set, single-spine chassis with the machine's cab then occupying the resulting space.
---
Perkins Engines is exhibiting its full range of Tier 4 Interim / Stage IIIB compliant engines at this year's Bauma.
The range is designed to not only offer specific power outputs but also a choice of engine configurations and options that provide OEMs with the ability to "design-in" the engine into the application with the minimum of re-engineering.
The award winning 1200 Series forms a key part of Perkins' new range of cleaner, compact diesel engines, and provides OEMs with a power span from 80 to 300hp.
bauma will also be the first showing for Perkins' new 854 Series compact, four cylinder 3.4 litre engine. The 854 Series builds on Perkins' strength and ability to tailor power solutions for individual customer needs. Significantly the new model will allow Perkins to offer customers greater power density and compactness to suit their precise requirements, whatever the application.
Offering more power and torque from a smaller package, customers will now be able to move seamlessly through the power bands as the 854E produces 60hp up to 115 hp.
---
BOMAG has again extended the boundaries for soil compaction.
Shown for the first time as a study model at the 2007 bauma, the concept generated such huge interest that BOMAG decided to put the unit into series production.
At the 2010 bauma, BOMAG will launch a new class of single drum roller (most notably in terms of its cost- cutting capability) with the BW 332, a 32 t roller, the heaviest single drum roller in the world !
---
Manufacturers using abrasion resistant steel to produce heavy machines are looking for light steel components offering longer life cycle and less replacement. As they enable weight reduction, demand for these special steels is increasing.
Duferco Clabecq is fulfilling this specific need with "Quard", its new abrasion resistant steel. Thin and wide, its plates innovate by their consistency regarding workability, their surface finish and their flatness.
---
The first edition of the SSAB Welding Handbook was so popular that several reprints were required to satisfy demand.
A great deal has happened in the field of materials in the meantime, including the introduction of new steel types. So SSAB has taken the opportunity to revise and expand the manual.
---
Several innovative new Merlo products will be shown at bauma.
Among them, production examples of the new P25.6 ultra-compact telehandler. With 2500 kg lift capacity and a lift height of 6 m, this 1,8 m wide machine features a full-size Merlo cab. A tiny machine, but with exactly the same driver comfort and safety of the larger Merlo machines.
Also, a prototype showing of a completely new heavy lift telehandler in a new 5 tonne capacity class. Designed out of a requirement from Merlo's highly successful Canadian importer, this machine is designed to compete on even terms with the top end of the US-style telehandlers with 5000 kg plus capacity, but in a European format. Maximum lift height will be close to 18 m.