IFAT Becomes IFAT ENTSORGA
Messe München and the BDE, Bundesverband der Deutschen Entsorgungs-, Wasser- und Rohstoffwirtschaft e.V., (Federation of the German Waste, Water and Raw Materials Management Industry) have agreed on a cooperation for IFAT. This International Trade Fair for Water, Sewage, Refuse and Recycling will in future take place under the name of IFAT ENTSORGA. As part of this cooperation, the successful concept pursued so far at IFAT will be continued, with greater emphasis on the areas of raw materials recovery and utilisation and private operators.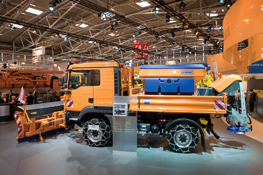 Eugen Egetenmeir, Managing Director of Messe München GmbH, comments: "IFAT ENTSORGA will not only provide the most efficient forum for the industry, it will also further expand its position as the world's leading trade fair for the environmental sector. In view of the ever growing number of environmental trade fairs, IFAT ENTSORGA gives orientation to the sector. At the same time it offers companies the opportunity of concentrating their marketing activities at the world's leading environmental trade fair."
Based in Berlin, the BDE, with its 750 member companies, is the largest association for the recycling and waste-management sector in Germany and Europe. The cooperation between IFAT and ENTSORGA opens up new national and international markets for its member companies. "Today, on a worldwide comparison, Germany can boast the highest levels of recycling. And that is due in large part to the privately owned companies involved in the waste-management, sewage and recycling sector which have invested in the latest technology and systems," says BDE President Peter Kurth. "This achievement is not an end in itself, rather it is an active and essential contribution to climate protection and careful use of natural resources. IFAT is an excellent platform at which to present the tremendous potential of our sector, and to support the companies within this industry in their efforts to reach out to markets around the world."
The Chairman of the Advisory Board of IFAT, Dr Johannes Kirchhoff, also sees this cooperation as a very positive development: "The integration of IFAT and ENTSORGA brings greater benefit for the exhibitors and their customers. As a leading world fair for the strongly growing area of environmental services, technology and products and for sewage treatment and water supply, IFAT ENTSORGA, taking place every two years, will be the most comprehensive platform worldwide for information and innovations in all areas of the environment, saving time and cost for exhibitors and visitors alike."
In 2008 IFAT set a new record for attendance, with 2605 exhibitors from 41 countries and around 120 000 trade visitors from 170 countries. From 2010 onwards Messe München and the BDE will be holding this event as a cooperation.
IFAT ENTSORGA is being held at the New Munich Trade Fair Centre from 13 to 17 September 2010.
Source: Messe München International