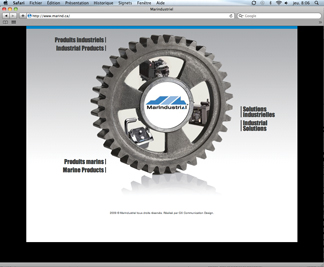 New Web Site for Marindustrial
Marindustrial is proud to announce the launch of its new Internet web site www.marind.ca. Marindustrial has had a substantial growth in the last few years and we found it necessary to reflect this on our new web site.
The new Internet site allows the net surfers to learn more about Marindustrial, its products and services offered. The site was also conceived to reinforce the increase presence of Marindustrial in the three different markets: stationary industrial, industrial off-road mobile and marine. The new site reflects the new and modern image and provides more and accurate information for the professional people that use the site.
On the home page, it is possible to explore the three different markets that Marindustrial service: industrial, marine and industrial solutions. Each distinct section is conceived to attract its respective customers, in terms of technical and commercial information. The net surfers will find in a glance the pamphlets and a multitude of specification sheets in PDF format of the products distributed by Marindustrial.
Moreover, one section "Events and Press release" allows an update on the innovations and to get informed about the events such as trade shows in which Marindustrial will take part in the year.
Founded in 1991, Marindustrial is a privately held company serving industrial and marine customers. Marindustrial is the Twin Disc distributor and service center for eastern Canada. Twin Disc manufactures heavy-duty powershift transmissions, marine gears, power take-offs (PTO), hydraulic PTOs, clutches, pump drives, torque converters and other power transmission components. Marindustrial also offers distribution and after sales service for industrial engines, generator sets and power units, engine accessories and components for industrial applications.
Source : Marindustrial