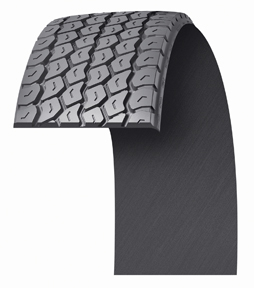 Michelin Introduces X One Retread for Refuse and Urban Applications
Michelin Retread Technologies (MRT) expanded its retread offering for its X One wide single truck tires today by introducing the MICHELIN® X One® XZU® S Pre-Mold™ Retread. The new retread will enable refuse fleets and other urban, high-scrub or regional application vehicles to realize the benefits of both a retread and a wide single tire.
"The X One XZU S tire has become a very popular tire in the urban and regional applications, especially for refuse vehicles," said Tom Brennan, vice president and director of MRT. "Fleets have seen the advantages of X One tires and can now take full advantage of the X One XZU S retread to further reduce their operating costs."
The X One XZU S retread is now available as a Pre-Mold Retread in a 390/430 tread size. The retread features long tread life and outstanding scrub resistance with 23/32 in original tread depth of an application-specific compound. The retread uses Michelin Co-EX technology—a two-layer compound designed to minimize casing temperature for longer casing life—and features a wing tread design for added protection on the shoulders.
While the tread design is optimized for all-weather traction, enhanced protection against stone drilling is also provided by variable pitch groove walls and groove bottom protectors in all grooves. When used in urban regional operations, Michelin X One wide single tires, featuring Infini-Coil™ Technology, provide optimized weight savings and significant fuel savings.
Source: Michelin North America