Real Power's Truck-Mounted
AC Generators Gaining Traction
with Fleets
Real Power® announced recent sales growth that it attributes to an increased demand from fleets.
"Fleets are utilizing Real Power technology to bring up to 180 kVA of AC power to remote work sites to operate power-hungry equipment and to bring emergency power to critical-care medical clinics," said Chris Gray, sales manager for Real Power. "Organizations are seeing new potential for vehicles they are already operating or are considering purchasing."
Vecoplan, LLC, a worldwide leader in shredding technologies and complete recycling systems, recently chose Real Power generator systems to operate shredding mechanisms on the most powerful mobile document destruction equipment on the market.
The operator of a leading nationwide network of dialysis facilities also recently chose Real Power chassis-integrated generators as part of its plan to keep clinics up and running during power outages and related natural disasters.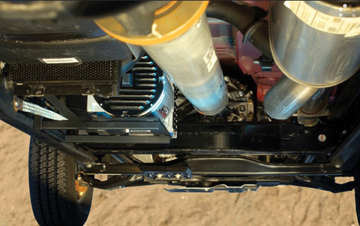 When a power outage occurs, Real Power-equipped delivery vehicles serving clinics in Chicago and other major metropolitan areas can be immediately deployed. The vehicles and selected clinics have been equipped with a simple-to-use cable interface; the vehicle is parked, cables are connected and a dashboard switch is flipped. Network staff members can perform the hook-up operation themselves and no electrician is needed.
With a diesel fuel capacity of 200 gallons, the trucks can arrive at the site ready to generate power for 48 hours or more without the need for refueling. Unlike traditional auxiliary generator sets that require fuel to be brought to them, the trucks can be driven to the nearest operating fuel station or can be refueled on-site.
"Before now, if you needed AC power delivered to a remote location or for an emergency, your choices were very limited," Mr. Gray said. "For smaller power needs, you could haul around a portable generator or tap into an unreliable inverter-based system. And for larger power requirements, you could have a large gen-set delivered to your location."
Mr. Gray noted that organizations with fleets have begun to choose Real Power over large generator sets because Real Power means one truck, one fuel source and maintenance that is as close as the nearest truck service bay.