Labrie Environmental Winner of Swedish Steel Prize 2009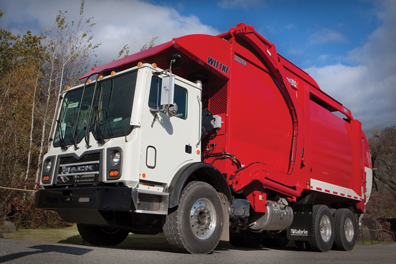 Labrie Environmental Group, the Canadian manufacturer of equipment for the solid waste industry, is this year's winner of the Swedish Steel Prize. The company won the prize with its new vehicle model – the Wittke Starlight.
According to the jury, this entry puts to most evident use the breadth and opportunities offered by high strength steels, due to the precise optimization of all parts of the vehicle, which are made mainly of high strength steel sheet.
"I am very surprised – and very happy!"
SSAB CEO Olof Faxander revealed the jury 's verdict on November 18, 2009, at the China Theatre in Stockholm. Two very happy representives of the canadian company entered the stage.
" I hoped very much that we would win, but I really did not expect this. So I am very surprised – and very happy!" said Jean Bourgeois, CEO of Labrie Environmental Group, Inc.
"I realised that we had won when the word "holistic" came up in the motivation that was read out before the announcement of the winner. Our project has a really holistic approach. Our truck has not only become lighter and stronger, we have achieved much more. Longer lifespan and shorter time of production are parts of that," said Jean Bourgeois.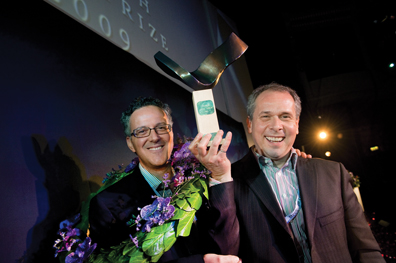 He was still shaken by the flashlights and the sudden attention during the prize giving ceremony.
Éric Tremblay, vice-president of Sales and Marketing at Labrie Environmental Group, expects a lot of attention around the Swedish Steel Prize in North America: "I think that many people will be very curious about our solution and the prize, both in Quebec and in our market in Canada and the US. That will of course be good for us – and for the prize itself."
"This award will make a huge difference in Nepal"
"We have decided to donate the 100,000 SKR (approx $15 000) Swedish Steel Prize award to Björn Söderberg, and his ongoing projects in Nepal. After hearing Björn Söderberg speak at the Swedish Steel Prize Inspiration Seminar earlier today, we strongly believe that he can use this award to make a big difference to a lot of people in a poor country," says Jean Bourgeois.
Björn Söderberg is one of Sweden's most exciting young entrepreneurs. When he travelled to Nepal, he was shocked by the widespread poverty and the rubbish dumped in local rivers. But witnessing this awakened his entrepreneurial spirit and he came upon a brilliant business idea.
Today Björn Söderberg runs three companies in Sweden and Nepal that combine corporate social responsibility with profitability. One of the Nepalese companies only employs women – the idea is to breakthrough the societal barriers and create new job opportunities for women. In addition, he helps people who cannot afford to go to university by employing them on a part-time basis and in return he pays for their tuiton.
You find more information on www.fairenterprise.net.
The Swedish Steel Prize is an international prize. In essence, it can be won by anyone who has developed a product that includes high-strength steel or a method that expands the field of application for high-strength steels. The winners may thus be individual persons, companies or institutions.
Source: SSAB