Product Offensive in the Compaction Segment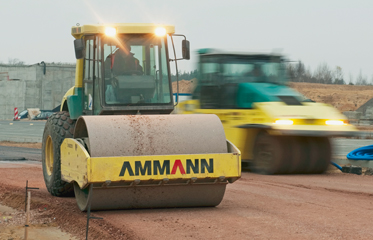 With regard to machines, the focus will be firmly on a completely revised compaction line of lightweight tandem rollers with operating weights ranging from 1.5 to 4.5 t. This product range will be premiered at the Intermat in Paris. A new hydraulic concept coupled with the latest Yanmar diesel engine technology is responsible for a significant increase in efficiency. The AV 120 X asphalt roller is the latest addition to the family of articulated
tandem rollers. Equipped with 1880 mm wide drums, the AV 120 X is ideal for carrying out highly efficient compaction work on asphalt mixes and binder courses.
Ammann's latest model ASC 150 ACE PRO is a powerful offensive in the field of intelligent compaction. An optional
GPS application is available for the ACE PRO system to display compaction progress in real time and provide
online documentation. The new hydrostatic pneumatic tyred roller AP 240 H is setting standards with regard to
ease of operation and driveability. The new drive concept with an integrated operation optimisation system significantly
reduces fuel consumption.
Ammann is also investing heavily in its asphalt finishers. The AFW/T 350 is a highly efficient wheeled or trackdriven
finisher with a maximum installation width of 4.5 metres. This finisher is suitable for small to medium-sized
construction sites where manoeuvrability in confined spaces is as important as high quality installation.
Source: Ammann