4-Wheel Drive Geo-Boy Brush Cutter Tractor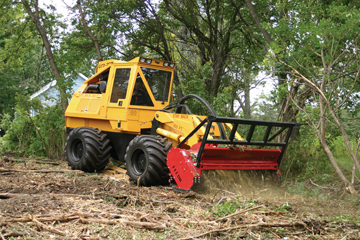 The 4-wheel drive Geo-Boy from Jarraff Industries features a unique articulated undercarriage that allows for precise control and movement, as well as an extremely low ground pressure rating. The unit provides unmatched cutting and clearing power for all site-prep and land clearing operations. An ergonomically designed cab puts all of the Geo-Boy's controls within reach of the operator.
The aggressive design and power of the Fecon cutterhead, used by the Geo-Boy, shreds and clears dense brush, undergrowth, whole trees and more. It is the largest brush cutter tractor in its class with 200-hp and 250-hp engine options.

Source: Jarraff Industries, Inc.