Doleco USA Publishes Extensive New 2016 Catalog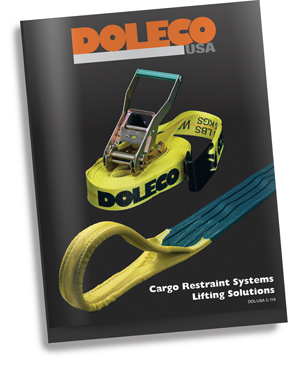 Doleco USA, a 2-year-old subsidiary of Dolezych GMBH, itself an 81-year-old German-based manufacturer of lifting equipment, slings, ropes and load-securing technologies, recently announced the release of its new 2016 Load Securement and Lifting Products Catalog. The redesigned catalog features over 100 new products and more than 300 total SKU's. The entire 52 page document is also available on the Doleco USA website.
Since its initial product catalog was released in 2014, Doleco USA has continued to expand its product line to serve the growing number of customers choosing Doleco as an option to over distributed brands. Among the new offerings are patented side loading ratchet strap assemblies, new patented winch bars, new transport chain packaging, an expanded retail strap offering, a hardware section and a new section devoted to high capacity premium Dyneema tiedowns and slings.
"We see tremendous opportunities for continued growth in the North American market, in all product lines," said Ralph Abato, president of Doleco USA. "We continue to add products and strive for innovation and improvement across our entire product line. Germany specifically, and Europe in general lead the world in terms of technical expertise in load securement and lifting technology. We aim to bring that level of sophistication to the North American market."
Source: Doleco USA