Rototilt® Celebrates 30 Years of Innovation and Success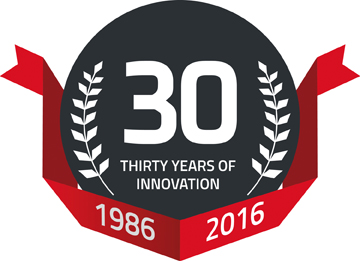 30 years ago in Umea, Sweden, the world of excavation began to rotate and tilt as the Rototilt tiltrotator was born. And things have never been the same since.
Rototilt is a tremendous example of entrepreneurship and innovation that now transforms excavators around the world into multifunctional tool carriers. With its 360° continuous rotation and 40° tilt each way, Rototilt allows excavators and backhoes to perform all types of work more efficiently with less machines and reduced manpower. As a result, tiltrotators have now become standard equipment in the Nordic countries on excavators up to 30 t capacity and quickly growing in the Central Europe and North American markets.
With extensive expertise in rotating technology, hydraulics, tribology and materials knowledge, Rototilt has developed in to an extremely durable product and grown in to a family of models covering excavators up to the 30 t class. With a variety of complimentary accessory attachments including buckets, grapples, and compactors, Rototilt products are used across a wide range of industries to perform any kind of excavator task safer, more productive, and more profitable.
While Rototilt was born 30 years ago, the innovations continue to flow at the development, testing, and world leading manufacturing facility in Vindlen, Sweden. A dedicated North American operations is located in Brantford, Ontario.
"It is our passion, our vision and that force drives us every day. We are well positioned to provide our customer with the greatest possible confidence to invest in tiltrotators from Rototilt," states Anders Jonsson, Rototilt's CEO.
It was the same 30 years ago and the commitment will continue.
Source: Rototilt Inc.,
Rototilt Group AB