Wacker Neuson Crowns New Trowel Challenge® Competition Winner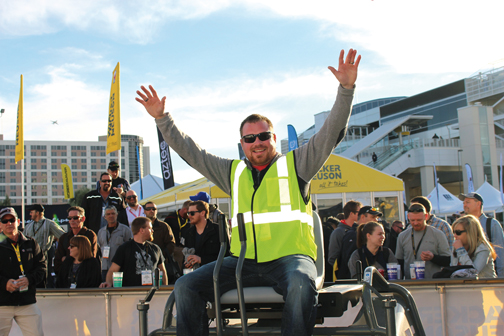 Concrete finishers from around the world competed in Wacker Neuson's Trowel Challenge® competition held at World of Concrete in Las Vegas, February 2-5, 2016. Over 150 of the best finishers from 7 countries, 4 Canadian provinces and 29 U.S. states tested their trowel operating skills as they maneuvered around a timed obstacle course.
Like the previous years, the challenge draws thousands of spectators to the Wacker Neuson booth to cheer on the finishers vying for the grand prize; a custom 48-inch CRT 38-35VX ride-on trowel powered by a special Vanguard™ BIG BLOCK™ V-twin engine. The contestants with the top 10 fastest times from the qualifying rounds advanced to the finals held Thursday, February 4. The top 10 finalist each had one run through the course and that time was added to their preliminary time.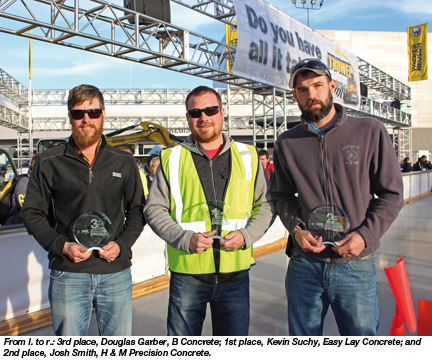 Kevin Suchy, owner/operator of Easy Lay Concrete in Tofield, Alberta, won with a combined run time of 62.963. Mr. Suchy came into the finals with the fastest qualifying time of 31.326. He maintained his lead and took home the grand prize with a final run time of 31.678. After his winning run, he celebrated with a victory lap to the cheers of the large crowd that gathered to watch the exciting final that resulted in less than 1 second separating 1st and 2nd place.
"It feels great to be the champion of the 2016 trowel challenge," said Kevin Suchy. "My wife and brother were with me at the competition and both of them couldn't believe it. I entered the competition focused on winning."
Second place finisher was Josh Smith, of H & M Precision Concrete in Greenville, Ohio, with a combined run time of 63.549. Third place went to Douglas Garber of B Concrete, in Brookville, Ohio. with a combined run time: 65.054. Mr. Garber is not a stranger to the Trowel Challenge finals finishing in 3rd place in 2014.
Source: Wacker Neuson Group