Wirtgen presents biggest surface miner 4200 SM at bauma 2010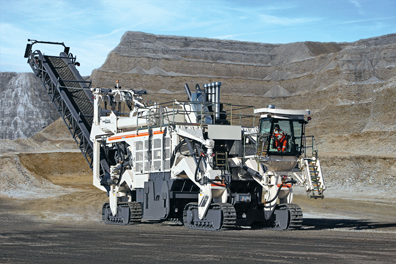 In 1980, Wirtgen GmbH built the first surface miner for the mining of minerals in opencast deposits. Today, Wirtgen is the market leader in this segment, offering a technically mature product portfolio for opencast mining that has been tried and tested in operations around the globe.
The latest machine in this product division is the large 4200 SM: the mining giant will be presented to the industry specialists in Munich as a world premiere. With a total weight of over 200 tonnes and a length of over 30 metres, the huge machine is the heaviest and longest exhibit of the entire Wirtgen Group exhibition stand.
At bauma, which is the leading trade fair in the industry, the 4200 SM will represent the successful surface mining division of Wirtgen GmbH that comprises three machines for opencast mining in different performance classes. Surface miners from Wirtgen offer cutting widths ranging from 2,20 m to 4,20 m and cutting depths of between 20 cm and 83 cm. Wirtgen is the only manufacturer covering a scope of performance ranging from 100 t to 3000 t/h. This high measure of productivity is attributable to the miners' efficient cutting technology plus a wealth of experience gained in three decades of application technology.
Productivity is clearly also the hallmark of the new 4200 SM: the miner is a high-performance machine suitable for mine operators and customers in large-scale opencast mining whose goal is to achieve an annual mining capacity in soft rock of up to 12 million tonnes while wanting to make full use of the benefits offered by Wirtgen's selective mining technology that enables cutting, crushing and loading in a single working pass.
The 4200 SM is available in two different configurations for operations in either hard or soft rock. For applications in soft rock with unconfined compressive strengths of up to 50 MPa, the 4200 SM is equipped with a 4,20 m wide cutting drum unit with larger cutting diameter, thus permitting a cutting depth of up to 83 cm. The largest Wirtgen miner can alternatively be equipped with a drum assembly offering a cutting width of 4,20 m and a cutting depth of 65 cm for applications in hard rock with unconfined compressive strengths ranging from 30 MPa to 80 MPa.
The heavy-duty machine is equipped with a 16-cylinder diesel engine from Cummins, making it the ideal candidate for a wide range of applications as its power of 1623 hp offers tremendous reserve capacity. Generously dimensioned tanks offering capacities of 2900 l for diesel and 10 000 l for water additionally increase the miner's uptime.
A two-stage conveyor system with 1800 mm wide primary and discharge conveyors and optional discharge conveyor lengths of 12 or 16 m supports the surface miner's impressive cutting performance of up to 3000 t/h. The conveyor's large slewing angle of 180°, flexible height adjustment and variable conveyor belt speed ensure smooth loading of large transport trucks even in restricted space conditions.
Source: Wirtgen GmbH