Record Number of Exhibitors at bauma China 2012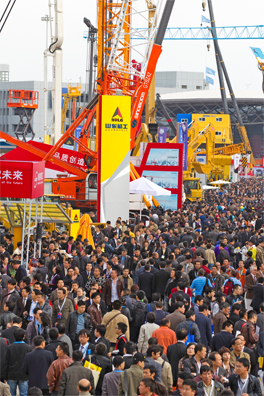 Already bauma China is setting a new exhibitor record.
By the middle of February 2012, over 1,900 companies had already applied to exhibit at the International Trade Fair for Construction Machinery, Building Material Machines, Construction Vehicles and Equipment, which takes place in November 2012. This figure exceeds the figure of 1,892 exhibitors who took part in the last bauma China. And there are still nine months to go before bauma China 2012 gets under way.
bauma China 2012 will be held November 27 - 30, 2012 at the Shanghai New International Expo Centre (SNIEC).
Collin Davis, Exhibition Group director at Messe München International, is upbeat: "It was our aim to offer our exhibitors improved conditions for their presentations in the halls. And, as we have eight more halls available for this year's event, we have been much better able to meet their space requirements."
Demand for space on the open-air site far currently exceeds the space available. Important key players, however, are making use of the additional hall space. In total, 300,000 m2 of space are available for bauma China 2012.
Interest from the industry worldwide continues at a high level: Austria, Finland, Germany, Great Britain, Italy, Korea, Spain and the United States will each be taking a pavilion at bauma China.