24/7 Emergency Service and On-Site Repairs
to Reduce Equipment Downtime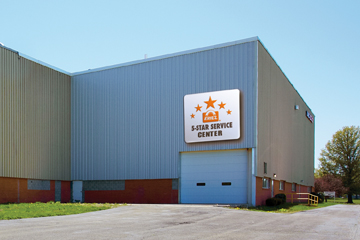 Besides handling complete remanufacturing of equipment, Eriez' 5-Star Service® also provides maintenance service and overall repair work on magnetic, vibratory and inspection processing machinery. "Our dedicated and experienced team of professionals is available 24/7 to evaluate your equipment service requirements and determine the best course of action to eliminate production downtime," says Dave Hansen, customer service manager.
The Eriez 5-Star Service Center, located in Pennsylvania, is equipped to inspect and repair an assortment of equipment, including magnetic separators, feeders, conveyors, screeners and classifiers, metal detection and x-ray inspection equipment, eddy current separators, lifting magnets, magnetic coolant cleaners, magnetic belt conveyors, and magnetic chip and parts conveyors. Eriez also has service technicians available for in-house repairs and routine maintenance checks.
With 70 years of experience and facilities located around the world, Eriez offers an unparalleled level of skill, knowledge and access. "A qualified Eriez engineer or technician is within hours of you to ensure your equipment and systems stay online," Mr. Hansen explains.
"Whether equipment is repaired in the field or at the Eriez 5-Star Service Center, all work is done with original Eriez parts, components and assemblies," says Dave Hansen. "5-Star Service customers can count on the fast, professional service that Eriez is known for."
Eriez stores several years of equipment records to help expedite service. Eriez' 5-Star Service also offers customers Instruction and Operation Manuals (IOMs), parts lists and step-by-step troubleshooting procedures.
Source: Eriez