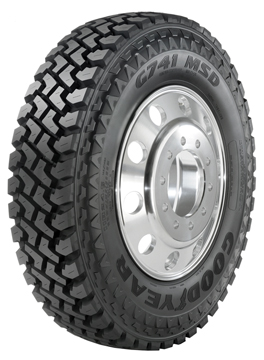 New Goodyear G741 MSD for Oil Field, Mining,
and Other Severe Service Applications
The Goodyear Tire & Rubber Co. has introduced a new truck tire for oil field, mining, logging and construction applications: the Goodyear G741 MSD.
"These are demanding applications that require a tire that's big, rough and tough, but also versatile and adaptable to a variety of conditions and environments," said Andrea Berryman, segment marketing manager, Goodyear.
The G741 MSD contains a wide range of features, including a deep 33/32" tread with a wide footprint to help provide high mileage and traction; an aggressive, self-cleaning tread design to help resist mud build-up and enhance grip; a cut- and chip-resistant tread compound that helps provide long-lasting performance on tough terrain; and tread block sipes to enhance traction in wet, snow and icy conditions while helping to maintain dry traction.
"The G741 MSD also boasts an innovative sidewall design that allows chains to be placed above the tread blocks for enhanced traction and grip," said Ms. Berryman.
The tire will be available this May in size 11R24.5, Load Range H.
Source: Goodyear