Advanced Electrohydraulic System
Help Improve Reliability of Diesel Hydraulic Grabs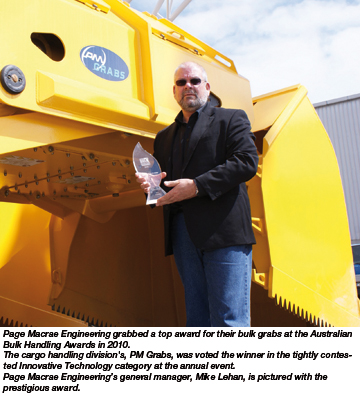 Eaton Corporation recently announced that Page Macrae Engineering of Mount Maunganui, New Zealand, Australasia's leading manufacturer of ship cargo handling equipment, has selected Eaton components to help improve reliability, as well as operation and safety, of the grab-control system of its Diesel Hydraulic Series grabs.
Operated via remote control by a ship's crane operator, the grabs discharge bulk material from a ship's hold with the aid of an Eaton F(x)™ electrohydraulic system featuring a mobile control valve, piston pump, controller, screw-in cartridge valves, hose and fittings, and filtration products.
Eaton's total system package and seamless component supply were instrumental in the business win, along with the capability of the Eaton integrated control/hydraulic system package to facilitate a two-stage, bucket-opening process that reduces losses in windy conditions and enables the engine to slide out quickly for maintenance and repairs.
Source: Eaton Corporation