Kyocera Solar Modules Deliver Reliable Performance
After More Than 25 Years in the Field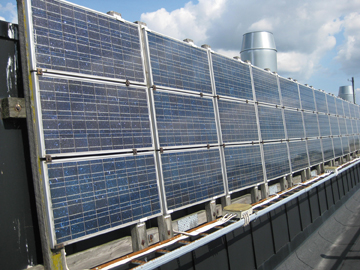 In recent years the solar energy market has seen extensive growth and undergone massive change. With so much fluctuation in the market landscape it becomes increasingly difficult for end-users to know where they can place their trust; particularly concerning a major purchase like solar energy which requires a long-term return on investment. Kyocera Corporation has been a pioneer in solar energy technology for more than 35 years, and is known for the outstanding quality of its solar modules.
Furthermore, the company boasts a number of real-life installations that have been consistently producing electricity for more than 25 years. These installations provide evidence of the exemplary reliability of Kyocera modules – a track record of both Kyocera's commitment to the market and its reliable product life.
Two aspects of major importance for any solar module are energy conversion efficiency and product life. A pioneer in multicrystalline silicon solar cell manufacturing technology with one of the highest conversion efficiency rates in the industry, Kyocera has a longer track record than the vast majority of market players.
In the U.S., nearly all solar module manufacturers offer a product warranty of 20 years or more, but very few have been in business that long. When end-users are considering implementing solar energy at their home or business, it is important to factor in whether the product will indeed last as long as promised, and if the company offering the warranty will still be around to honor it. With long-term field results to stand on and over 35 years of solar research, development and manufacturing, Kyocera's track record provides end-users with confidence on both accounts.
Source: Kyocera Solar