Dana Launches Production of Spicer® TZL Series Transmissions in China
Dana Holding Corporation recently announced the start of production on the Spicer® TZL Series, a new line of powershift transmissions for premium front-end loaders manufactured in China.
The first Spicer TZL16 transmission rolled off the assembly line on February 29, 2012, as part of a special ceremony commemorating the occasion at the Dana assembly facility in Wuxi, Jiangsu Province, China.
The Spicer TZL16 transmission has been engineered for 17 t ZL50 front-end loaders, which account for about two-thirds of the front-end loaders manufactured in China today.
"The production of the TZL16 transmission marks a significant milestone in our 20-year commitment to our Chinese customers," said Aziz Aghili, president of Dana Off-Highway Driveline Technologies. "The Chinese construction market is growing steadily, and there is an increasing number of Chinese manufacturers pursuing global expansion. Dana can best support this growth opportunity with an increased presence in both product range and in-region operational capability."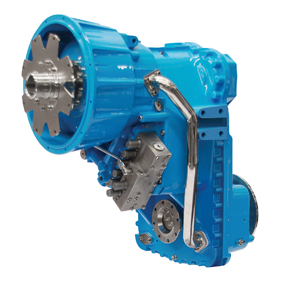 First unveiled at Bauma China 2010, the Spicer TZL Series is a new four-speed transmission platform that uses proven internal components from the extensive line of Spicer powershift transmissions already available for the off-highway market worldwide. The Spicer TZL Series has been specially designed to supply front-end loaders with higher horsepower capability, reduced maintenance, and smoother, quieter operation.
Dana has begun development on the next products in the TZL Series, including the Spicer TZL18 transmission for 21 t front-end loaders and the Spicer TMG14 transmission targeted for 150-215 hp motor graders. Production of these products is expected to begin this spring in Wuxi.
Over the past year, Dana has announced several initiatives to better support Chinese original-equipment manufacturers across all the vehicle markets served by Dana. In May of 2011, Dana broke ground on a 12,000 m2 technical center in Wuxi. Scheduled to open this summer, the new technical center will provide advanced product and applications engineering through research, design, development, and testing of driveline, sealing, and thermal products, including electric vehicle battery coolers.
Last summer, Dana announced it had increased its stake in Dongfeng Dana Axle Co., Ltd. (DDAC) to 50%. Headquartered in Xiangyang, Hubei Province, it is the primary supplier of truck axles to Dongfeng Motor Co., Ltd., DDAC currently offers a complete range of truck axles in the Chinese market, including drive, steer, tandem, and hub-reduction axles for light-, medium-, and heavy-duty trucks, as well as buses.
Source: Dana Holding Corporation