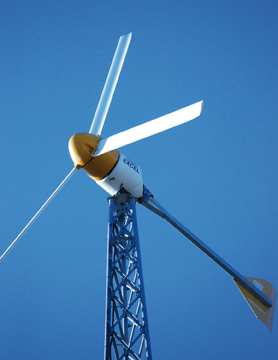 First Certified Small Wind Turbine in America
Bergey Windpower announced recently that its best-selling BWC Excel 10 wind turbine is the first to receive full certification to the new "AWEA Small Wind Turbine Performance and Safety Standard".
"This new standard is the most significant milestone in the history of the small wind industry because it provides, for the first time, third-party verification of real world performance and a highly technical review of a turbine's strength and safety," said Mike Bergey, president of Bergey Windpower and the 2011 president of the Distributed Wind Energy Association. "This is huge for consumers because it addresses the 'hucksters and hype' problem in the small wind marketplace. We are very proud to be the first to achieve this game-changing certification."
The Bergey Excel 10 is a 7 m diameter horizontal-axis turbine designed to provide the annual energy requirements for homes, farms, and small businesses. More than 2,000 Excel turbines have been installed in more than 50 countries. It has only three moving parts, requires no annual maintenance, and was the first small wind turbine to carry a 10-year warranty. Excel owners include hundreds of homeowners and farmers, schools, museums, state and federal parks, all branches of the U.S. military, and major corporations.
The AWEA standard was developed over a five year period by a committee of over 30 individuals drawn from industry, research organizations, universities, retailers, and users. The U.S. standard, which references a number of existing international (IEC) standards, has been adopted in Canada and, with some minor changes, in the UK.
Certification of the Excel 10 turbine was granted by the Small Wind Certification Council (SWCC), an independent organization funded by several states and the U.S. Department of Energy.
Bergey Windpower introduced a new 5 kW turbine last September and it is currently undergoing certification testing at the Alternative Energy Institute in Canyon, Texas. Bergey expects the Excel 5 to be certified by the SWCC early in 2012.
Their 10 kW turbine is also undergoing certification in the UK, which will make it eligible for the substantial feed-in-tariffs provided by the British government. Bergey expects its UK certification to be granted within weeks.
Source: Bergey Windpower