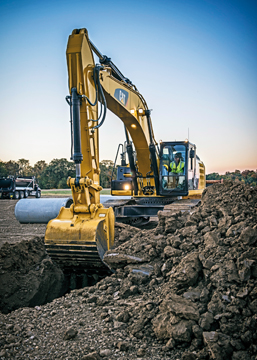 Caterpillar Will Display More Than 70 Products
at bauma 2013
Caterpillar, in cooperation with its German dealer, Zeppelin Baumaschinen GmbH, will exhibit more than 70 machines under the theme "Committed to Your Success. All Day. Every Day." Three different exhibit areas totalling over 12,000 m2 of space will showcase the latest Cat® machines, work tools and engines as well as the latest technology, solutions and services to help customers succeed.
The main indoor stand, features more than 50 machines. With a focus on technology to deliver leading productivity, fuel economy and sustainability, the centre part of the stand will showcase:
the new Cat® 336E H hybrid excavator that will be launched at the show. This revolutionary model uses a new hydraulic technology developed by Caterpillar and delivers uncompromised performance;
the 988K wheel loader, also being introduced at the show, meets the stringent European Union (EU) Stage IV/United States (U.S.) EPA Tier 4 Final emission standards and offers up to 20% greater fuel efficiency compared to the previous model;
the Cat 966K XE wheel loader, equipped with an advanced powertrain system;
the Cat D7E electric drive track-type tractor.
Additional Cat machine introductions feature four mini excavators: Cat 302.2D, 302.4D and the compact radius 301.7D and 308E2, the 444F equal size tyre (EST) backhoe loader and the D6K2 track-type tractor. The recently introduced 318E hydraulic excavator and M313D wheel excavator, the 120M2 AWD motor grader as well as the 91 t capacity 777G off-highway truck will be on show.
Optimally matched with the 777G truck, the 6020B hydraulic mining shovel is a brand new, "clean-sheet" design that will make its market debut at bauma. With a 220 t operating weight and a 20 t payload, the 6020B is the largest Cat machine on display. Designed for simplicity and reliability, the 6020B features a new, state-of-the-art cab design with class-leading visibility, modular construction with walk-through power module for superior serviceability, and a single-engine configuration for superior efficiency.
The broad range of machines displayed includes a full representation of Cat paving products and the introduction of three new models: the AP300D paver and two utility compactors: the CB24B and CB34B XW. Those products are reviewed in a separate press release.
The following key industry support services provided by Caterpillar and Cat dealers will be highlighted. Product Link™ and Vision Link™ enable comprehensive and flexible remote monitoring, asset tracking, fleet management, preventative maintenance, and help improve site productivity. Displays will demonstrate how the powerful tools within the Vision Link interface allow immediate access to fleet information by customers. In addition, dealers are able to interpret the data to recommend maintenance, training and plant optimisation to enhance customers' productivity, equipment utilisation, performance and profit.
Cat Grade Control, a two-dimensional factory installed and calibrated machine control and guidance system, can be upgraded to a three-dimensional system and AccuGrade™ is available as an aftermarket system. Those solutions equip customers with the ability to improve the bottom line through efficient use of time, safer working conditions, better project cost management and precise job specification deliverables. These options will be featured on displayed construction and paving equipment.
Cat Certified Used (CCU) equipment help customers lower costs and improve financial returns. Each Cat Certified Used machine is backed by a strong warranty.
Financing and insurance : With more than thirty years of experience, Cat Financial provides finance service excellence to Cat customers in every market Caterpillar serves. Cat Financial offers a wide range of financing alternatives to customers and Cat dealers for Cat machinery and engines, Solar® gas turbines and other equipment and marine vessels.
Caterpillar industrial will feature a full range of EU Stage IV/U.S. EPA Tier 4 Final engines. These engines span 11-1200 hp and are utilized by original equipment manufacturers (OEMs) in the construction, mining and general industrial sectors. On display will be a C2.2 and C7.1 ACERT™ engine, in addition to a C4.4 ACERT and C13 ACERT power unit.
Source: Caterpillar,
Caterpillar Industrial Power Systems